Police warning to Rangers owner Craig Whyte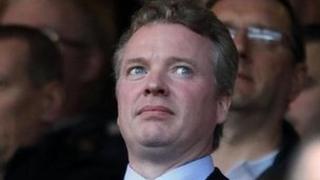 Rangers owner Craig Whyte has been warned by police that he is an "increased security risk".
Officers believe the businessman could be in danger of being targeted by fans for his part in the financial collapse of the club, which has been placed in administration.
Mr Whyte said he was taking "extra precautions" as a result of the police advice.
But he said he was being "demonised" for the club's problems.
Mr Whyte said: "I have had security advice from the police. You would have to be living in a different planet to think that there is not an increased security risk for me.
"I have been briefed by police and have been taking extra precautions. I am not overly concerned. Most people are understanding of the situation.
"I have been demonised for problems at the club from years ago."
Tax tribunal
After being greeted by most fans as a hero when he took over the ailing Ibrox club from Sir David Murray in May last year for £1, Mr Whyte became the villain when Rangers entered administration on 14 February over alleged non-payment of £9m in PAYE and VAT taxes.
It emerged that Mr Whyte was able to fund his takeover by selling future season tickets to Ticketus, a partnership which ultimately raked in £30.5m and which left the the investment firm a key player as administrators Duff and Phelps search for new owners.
Rangers are still waiting for the verdict of a tax tribunal relating to the use of employment benefit trusts to pay players and other staff before Mr Whyte took over and which, if it goes against them, could leave them with a reported bill of £49m.
Rangers were deducted 10 points by the Scottish Premier League for entering administration, which effectively ended their title hopes.
Duff and Phelps have set a Wednesday deadline for interested parties but liquidation has been mooted as a possibility even in the event of a takeover.