Knife crime crackdown comes into force in Scottish towns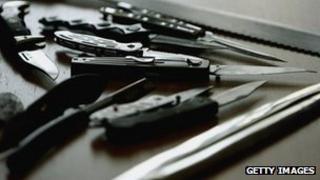 A "zero tolerance" crackdown on knife carrying in Scottish town and city centres is coming into force.
Under new guidelines, anyone caught with a knife will be prosecuted in front of a sheriff and jury and face up to four years in jail.
The move follows a pilot over the Christmas and New Year festive period.
The Crown Office said the pilot had demonstrated the value of making the tougher policy a permanent feature of the fight against violence.
Prosecution in front of a sheriff and jury increases the potential maximum prison term from one year to four years.
The number of knife crime offences reported to the prosecution service during the pilot was down to 212 - a reduction by 18% from the same period the previous year.
Of those offences committed in a town or city centre, 58 offenders were placed on petition and faced more serious penalties.
Root causes
Lord Advocate Frank Mulholland QC said: "I am pleased to see that the prosecution service's zero tolerance policy to knife crime has resulted in a reduction in the number of cases reported to the COPFS [Crown Office and Procurator Fiscal Service] over the same period as last year.
"From today the zero tolerance policy towards those who commit such offences in our town and city centres will be a permanent part of our prosecution policy.
"As I said at the outset of the crackdown, success can be measured by the prevention of just one act of violence.
"I can also reassure the public that the prosecution service will continue to work with the police and others to deter violence and protect communities."
Chf Insp Graham Goulden from the Scottish Violence Reduction Unit told BBC Scotland that there also needed to be a focus on educating young people about the dangers of carrying a knife.
He said: "Knife crime impacts on a load of people, not just the victims, but their families, their friends, the emergency services.
"We need to start looking at what makes people violent and really tackle the root causes of that, with a focus on early years and education.
"There is some excellent work that is going on in our schools in Scotland and these are the bits of work, alongside this policy, that will start to make a real difference ."
The zero tolerance pilot ran between 12 December 2011 and 23 January 2012.
The policy already covered knife possession on licensed premises, when gang involvement was suspected, on public transport and at a bus or train station.
John Muir's son was murdered in a knife incident. He welcomed the new guidelines but said they had been a long time coming.
"What we are talking about here was endorsed in parliament in 2006," he said.
"Why does it take six years to put it into focus? That is the big question victims ask.
"But let's not deviate from the point. What has been announced today is a big step forward. We are delighted to see this step forward and we trust that other families will not have to go through the terrible times we found ourselves in."