Lights go out at Scottish landmarks for Earth Hour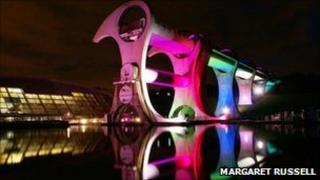 Some of Scotland's best-known landmarks will be plunged into darkness later as part of a global climate change campaign.
The lights will go out at 20:30 on structures including Edinburgh Castle, the Scottish Parliament and the Forth Bridge to mark Earth Hour.
The event, organised by WWF, began in 2007.
Last year Scotland became the first country to secure support from 100% of its cities and local authorities.
WWF Scotland said this year Earth Hour, which aims to highlight the impacts climate change is having on people and nature, has the backing of every political leader in Scotland.
Other iconic structures and local landmarks going dark for an hour include Perth Art Gallery, the Falkirk Wheel, the Wallace Monument, Lloyds Bank on the Mound in Edinburgh, the National Galleries, Arbroath Abbey, Kelvingrove Museum in Glasgow, the Clyde Arc, Urquhart Castle, Eilean Donan Castle, Inverness Castle and the Scott Monument.
The operators of Glasgow Airport said they would be turning off non-critical lights and other energy using systems in support of Earth Hour.
Dr Richard Dixon, director of WWF Scotland, said: "We are very proud that Scotland is again getting behind WWF's Earth Hour. From political leaders, school children, local authorities and landmarks, it is great to see so many people getting behind this global event.
"WWF's Earth Hour has a unique ability to unite and empower people around the world.
"It gives everyone the chance to have some fun, to organise their own events, and at the same time be part of an incredibly powerful global event highlighting the impacts climate change is having on people and nature."