Is British Airways giving up enough to buy BMI?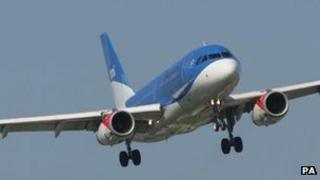 So farewell, BMI. The British Midland brand will only last a few months beyond 20 April - target date for the handover of the loss-making Lufthansa subsidiary to IAG, parent company of British Airways.
And farewell also to competition on key routes for Scotland? Well, we'll have to wait and see. There are some hopes that the conditions placed on European Commission approval of the deal ought to see a rival take to the air on links between Heathrow and both Edinburgh and Aberdeen.
BMI gave up on its Heathrow-Glasgow link a year ago, and so that wasn't part of the negotiation. Meanwhile, British Airways is committed to replacing BMI's link between the London hub and Belfast.
These are vital links for Scotland and for Northern Ireland, both in frequency and in price. And remember, this is not just about getting people away on their long-haul holidays. It's rather more important that business and tourist travel can get through the Heathrow bottleneck for convenient connections to other parts of the UK.
Without that, the cost and time commitment for a visit to Scotland or Northern Ireland goes up. That's partly addressed with one of the conditions placed on IAG by the European Commission - that it should ensure other airlines have access to seats on its feeder flights in and out of Heathrow.
Flight paths
There's also concern that the removal of competition between British Airways and BMI on routes linking Heathrow to Nice, Cairo, Riyadh and Moscow will be bad for travellers.
So it seems the deal is that the 14 slots IAG has been required to release will be used for these links. IAG's understanding of the deal is that at least seven of them will be released for links between Heathrow and a combination of the two Scottish airports. That's described by Liz Cameron, chief executive of Scottish Chambers of Commerce, as "rather meagre", pointing out this matters particularly to Aberdeen, where the train offers less effective competition to BA.
Two slots are being specially reserved for Moscow links and Transaero airline, as these are heavily regulated between the UK and Russian governments. The others are for a combination of these other destinations.
According to the Commission, the slots will be handed over to a trustee to take bids for them from new entrants to the market. Preferred bidders chosen by the trustee will then require clearance from the competition commissioner.
Virgin Atlantic, which tried to buy BMI from Lufthansa, and which has been fiercely critical of the deal with IAG, said it would commit to continue BMI's links between Heathrow and both Edinburgh and Aberdeen. Since the European Commission ruling came through on Friday evening, it's said it remains committed to that. Others may also bid for the routes.
Jet lag
What has been overlooked by the sale of BMI mainstream, as I've written before, is the future of BmiBaby, the low fare carrier, and of BMI Regional, based out of Aberdeen and running commuter jets between smaller airports.
The deal struck between IAG and Lufthansa allowed the German airline to sell both these parts of BMI. And IAG has said it hopes both divisions will be sold on before the rest of the airline is handed over.
If Lufthansa fails to sell BmiBaby, the £172m price set in December may come down substantially because of the financial liabilities it still carries along with heavy losses.
BMI Regional remains more complicated. Attempts to raise finance for its purchase, allowing it to create a new Scottish-branded airline, have so far failed to reach the £20m minimum required.
If that isn't achieved by the target handover date of 20 April, BMI Regional becomes part of IAG. It could choose to find a buyer, or it could close it down, and the 300-plus jobs in the division would be only some of those that can now be expected to go as the two airlines are merged.