Scottish petrol stations have 'enough fuel' after spike in demand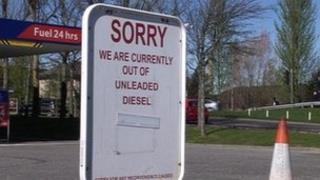 Fuel production in Scotland has been easily able to meet the slight increase in demand, according to ministers.
The Scottish government's resilience committee met to discuss the matter following a 24 hour spike in fuel sales on Thursday.
There had been reports in some areas of garages running out and queues at the pumps. At 17:00 on Friday, 97% of Scotland's filling stations had fuel.
Earlier the Unite union ruled out a strike over Easter by tanker drivers.
Compared with increased fuel demand in England of more than 170%, in Scotland the rise in demand is about 10%.
Scotland has 907 filling stations.
The Scottish government said that whilst some petrol stations north of the border ran out of fuel, this was "not significantly different from normal business".
Finance Secretary John Swinney said: "The clear information emerging from today's resilience meeting is that there is more than enough fuel in the system to meet normal levels of demand.
"There is still every reason to believe that industrial action can be averted as Unite and hauliers sit down to talks with ACAS next week.
"News from Unite that there will be no strike, at least until after the Easter break, is welcome. And it is clear too that strike action is not inevitable."
Mr Swinney urged both sides to resolve the issues between them and avoid any further disruption.
Unite announced on Friday morning that there would be no strike over Easter.
Earlier this week the UK government was accused of causing panic buying at the pumps after some ministers urged drivers to fill their tanks ahead of possible industrial action by tanker drivers.
The rules on fuel tanker drivers' hours have been temporarily relaxed to help the transport of supplies to filling stations.