Saltire Prize medal for inventor of Pelamis wave 'sea snake'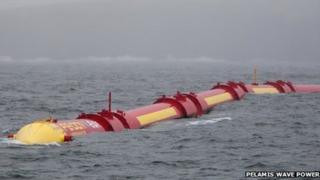 The inventor of the so-called red sea snake wave energy device has been awarded the Saltire Prize medal.
Dr Richard Yemm founded Pelamis Wave Power in Edinburgh in 1998.
The company uses giant wave machines to generate electricity by harnessing the power of the sea.
First Minister Alex Salmond presented Dr Yemm with the award for his outstanding contribution to the development of the marine renewables sector at a dinner on Tuesday.
The Pelamis wave energy converter has gained international recognition. The firm secured the first export order for a wave energy device in Scotland.
Dr Yemm is the second person to be presented with the Saltire Prize medal, given under the auspices of Scotland's £10m Saltire Prize marine energy challenge.
Last year Prof Stephen Salter, described as the "founding father" of wave power technology, was awarded the inaugural medal.
Dr Yemm said it was "a huge honour" to receive the award, which he accepted "on behalf of all who have worked tirelessly" alongside him over the years.
He added: "This is an individual award, but wherever you take the time to look across this exciting new sector you can see exceptional individuals working together as one team to deliver on the 'win-win' of clean energy and economic development opportunity that marine energy represents."
Presenting the award, Mr Salmond said: "Richard has driven forward the technical and commercial development of Pelamis Wave Power, which now boasts major international utilities E.ON, ScottishPower and Vattenfall among its customers.
"Richard has also made a huge contribution to the wider wave energy and renewables sector through his active engagement across industry and government.
"His drive, ambition and vision should be an inspiration to many young people who are considering careers in engineering, science and the energy industry."
Niall Stuart, chief executive of Scottish Renewables, said: "Richard Yemm will undoubtedly be looked upon as one of the most influential people to the development of Scotland's marine industry; from the drawing board to grid connected devices and making important steps to commercial scale projects."
Mr Salmond also announced that Terry Garcia, executive vice president of National Geographic Society, has agreed to chair the Scottish government Saltire Prize challenge committee.
The main Saltire Prize will see £10m awarded to the team that can demonstrate, in Scottish waters, a commercially-viable wave or tidal stream energy technology that achieves the greatest volume of electrical output, over the set minimum hurdle of 100 gigawatt hours (GWh), over a continuous two-year period, using only sea power.
It has so far attracted more than 150 registrations of interest from 31 countries, and three official entrants.