London 2012: Cyclist David Millar talks about Olympic ban lift possibility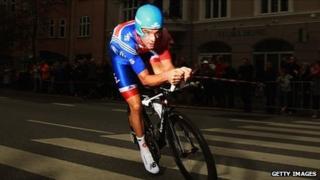 Scottish cyclist David Millar, who has a lifetime Olympic ban after admitting doping, has said people make mistakes and should be given a second chance.
He was speaking to BBC Radio Scotland ahead of a decision due next month by the Court of Arbitration.
The British Olympic Association (BOA) is challenging a ruling by the World Anti-Doping Agency (Wada) that the Olympic ban is unenforceable.
But, Mr Millar said if he did go to the Olympics he would be the "black-sheep".
The 35-year-old was interviewed by BBC Scotland presenter Edi Stark for a radio documentary called Cheats and Champions.
He is currently waiting to hear if he can compete at the London 2012 Games.
He was suspended from cycling for two years in 2004 after he admitted taking the blood-boosting drug EPO.
Guaranteed win
In the programme he talked openly about first succumbing to doping during a "disastrous" Tour de France in 2001.
He said an older rider on his team approached him when he was "mentally weak."
"I knew who he was and what he represented, and he represented doping. And that was it," he explained.
When asked what difference the drug-taking made to his performance, the cyclist said: "It was the difference between going to a race and hoping to win, and going to a race and guaranteeing to win."
He added: "The reason I did it was because you could get away with it."
A BOA by-law prevents any drug cheats from competing at the Olympics but this is being looked at by the Court of Arbitration after Wada said it was not compliant with its code.
The radio programme also heard from BOA chairman Lord Moynihan who strongly defended the association's tough stance on drugs cheats.
"In sport the one thing you do not do is cheat. You know that. You know the consequences. You know you'll never be selected again.
"We don't believe that those who have knowingly cheated should be there."
Cyclist Millar said he thinks people should be offered a second chance.
"People do make mistakes and I think they should be punished," he said.
"But they should be forgiven and given the opportunity for a second chance. We are human beings.
"Why should sports men and women get punished harsher than people in the normal world?"
However, despite the possibility that the Olympic ban may be lifted, Millar said the idea of competing at another games was something he had "signed off from a long time ago".
He added: "I am quite happy looking forward to 2014 Glasgow Commonwealth Games.
"That will be a much more joyful experience than me going to the Olympics as a black sheep.
"Even if it was to all go through now, and I was to go, I don't know if it would be a very joyful experience for me."
Millar said he has yet to decide if he would even go to the Olympics if the ban was lifted.
"Is it a stronger message if I don't go, is it a stronger message if I do go and perhaps try to change people's opinion that forgiveness should be offered?" he asked.
"I've nailed myself to a few crosses and I'm not sure if I'm prepared to go for the final big one on this."
A ruling from the Court of Arbitration is due next month.
Cheat and Champions is on BBC Radio Scotland at 14:00.