'Rabit' technology unleashed on metal thieves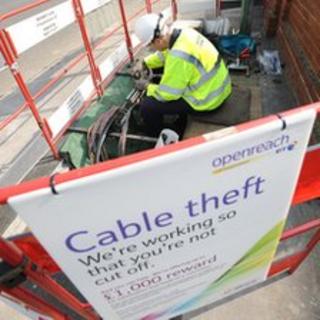 BT has launched a new weapon in a bid to tackle cable thieves across Scotland - the Rabit.
The burglar alarm technology can act within minutes and detect when a cable has been cut or damaged.
Rabit (Rapid Assessment BT Incident Tracker) can also accurately pinpoint an incident to a road or street.
The system alerts BT's security control centre and police response teams when cable thieves attack the company's UK telephone and broadband network.
BT said a trial of the technology had already forced cable thieves to flee crime scenes empty-handed.
BT Scotland director Brendan Dick said: "BT's new burglar alarm on the network will make thieves think again.
"We are now able to inform the police of the exact location of malicious network attacks and, if trials are anything to go by, it won't be long before they start catching the thieves in the act."
'Major deterrent'
British Transport Police deputy chief constable Paul Crowther said Rabit would act as a "major deterrent" to criminals engaged in metal theft.
He added: "More importantly, communities and businesses should see a sharp reduction in the disruption caused by this type of theft."
The numbers of arrests related to BT cable theft are continuing to rise, with the average number of arrests per month up nearly 8% on last year.
In the past 11 months the number of arrests has reached more than 480, already more than the 446 arrests in 2010.
BT has recovered 240 tonnes of stolen metal in the past eleven months, as a result of visits to scrap metal dealers and working with police forces on targeted operations.