Corporal Keith Mitchell honoured for 'courage and selflessness'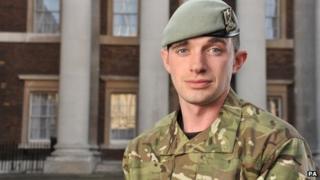 A soldier with the Royal Scots Dragoon Guards who risked his life to save wounded comrades in Afghanistan has been awarded the Military Cross.
Corporal Keith Mitchell, 29, was commended for his "courage and selflessness" under fire.
He stood in open ground to draw enemy fire away from his colleagues in an attack in Helmand in March last year.
His award citation said: "His sustained actions displayed bravery of the very highest order."
It said the actions of Cpl Mitchell, from Glasgow, "undoubtedly saved the lives of the wounded soldiers and those who were treating them".
His section was attacked in a sudden and prolonged ambush from several directions while on patrol in Pulpalzay.
They were pinned down for half an hour.
Suppress the enemy
Two of the enemy positions increased their fire and directed a series of rocket propelled grenades (RPGs) at the two stranded sections.
One RPG burst in the air, showering the soldiers of the other section in shrapnel and injuring four of them.
Cpl Mitchell abandoned the safety of cover behind a wall and stood up in open ground, so the enemy began firing at him instead.
With rounds raining down on him, he fired three accurate rifle grenades to suppress the enemy position, managing to either destroy or damage their capabilities.
Firing ceased immediately allowing the wounded men to be evacuated.
He said: "I didn't see it as putting myself in danger - I just thought that if I could push forward about 5m, I could fire my weapon system so we could do something about the attack.
"It may be hard to believe but I wasn't even thinking about the incoming fire, I was just concentrating on firing my weapon and then watching the shot to make sure it was accurate, rather than noticing the rounds coming at me.
"You are concentrating so hard on firing your weapon that it's like being back on the ranges, which took my mind off what was going on around me.
He added: "I was more annoyed at the helplessness as the rounds kept coming in at us.
"It was only as we were extracting through a field of waist-height poppies that I could see how close the rounds were landing to us.
"As we ran through the field the insurgents were firing at us - taking off the heads of the poppies as close as half a metre away from us."
Cpl Mitchell has completed two tours of Iraq in addition to his time in Afghanistan and is based with his regiment in Fallingbostel, Germany.
He and his wife, Linda, have a young daughter.