Metal thieves 'threaten Scottish heritage'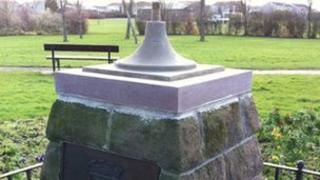 Metal theft could be causing "irreparable" damage to Scotland's heritage - as well as costing taxpayers hundreds of thousands of pounds, a BBC Scotland investigation has found.
A survey of all 32 Scottish councils showed the total cost of repairing damage caused by metal thieves across the country has reached some £600,000.
In Edinburgh alone, the bill has doubled in only a year to £362,000.
Thieves are said to be increasingly targeting historic sites.
But the true extent of the problem is not yet known as many Scottish councils and police forces do not record the crime of metal theft separately.
In England and Wales, a police chief inspector has been seconded to English Heritage to help in the fight against metal theft.
Noel Fojet, from Historic Scotland, said the issue needed to be given a higher profile north of the border.
He said: "It's stealing the heritage in a sense, and the damage that's caused can be very substantial.
"If it's a set of railings, well you can probably get some more railings made up to the original pattern. But if it's the roof of a building it doesn't take very long in the Scottish climate for a small bit of lead theft to result in a very big repair bill."
'Vicious crime'
The sundial at the Memorial Park in Loanhead, Midlothian, has been stolen twice by thieves. It was returned the first time, but is now missing again following a second attack in January. It commemorates the Queen's visit in 1961.
Edinburgh's McDonald Road Library, which boasts Victorian architecture and turrets, has been hit twice by metal thieves who stole lead flashing from the roof.
It cost £4,000 to repair the damage, £7,000 to install an alarm, and will cost a further £20,000 to repair permanently - just part of Edinburgh's £362,000 metal theft repair bill.
Councillor Phil Wheeler of Edinburgh City Council said the figure had doubled since last year.
He said: "This is a big worry for a city like Edinburgh which prides itself on its built heritage. It really is a vicious crime, it's far from a victimless crime, it's very much the whole community suffers if our heritage is affected".
The Investigation - Stealing Our History will be broadcast on BBC Radio Scotland at 10:30 on Sunday 25 March.