Scottish Independence: Ruth Davidson launches Friends of the Union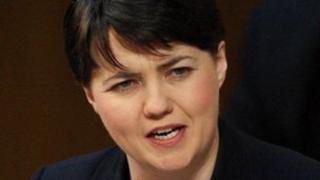 The leader of the Scottish Conservatives is to launch a new group aimed at keeping Scotland in the Union.
Ruth Davidson said Conservative Friends of the Union would be open to anyone, not just party members.
The organisation will be formally launched at the party's conference in Troon, Ayrshire, on Friday.
But the SNP said the Tory-led campaign group would only increase support for Scottish independence.
Ms Davidson said the Conservative Friends of the Union would be organised on a local government basis.
She added: "The battle has started that will determine the very existence of the United Kingdom.
"Like millions of other Scots I'm proud to be both Scottish and British and I look forward to standing shoulder to shoulder with people right across Scotland to preserve one of the most successful political and economic unions in the world.
"The Conservative Friends of the Union will help to lead that fight and will be a home and a voice for all Scots who want to see a fair, prosperous and safe Scotland stay within the United Kingdom."
'Comprehensively rejected'
First Minister Alex Salmond intends to hold a referendum on Scottish independence in autumn 2014.
And SNP MSP Kenneth Gibson said he was confident the Scottish people would not be "fooled" by Ms Davidson's new pro-Union group.
Mr Gibson added: "The more the anti-independence campaign in Scotland is seen to be Tory-led, the stronger support for independence and a new relationship of equality between Scotland and England will become.
"The people of Scotland know far better than to be duped by a party that has continually failed this country, and been comprehensively rejected. Labour have fallen into the background on the debate on Scotland's future, while the Lib Dems are increasingly irrelevant.
"When the people of Scotland are given the choice in 2014 between home rule with independence or Tory rule from Westminster, I am confident they will trust themselves and vote Yes for independence."