Call for pre-watershed ban on junk food advertising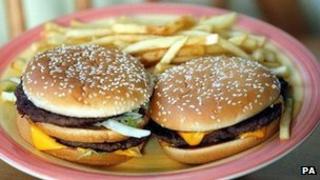 Television adverts for food high in fat, sugar and salt should not be shown before the 9pm watershed, according to Scotland's public health minister.
Michael Matheson has written to UK Health Secretary Andrew Lansley asking if he would support a UK-wide ban.
It follows recent research which suggests children are still exposed to the same level of junk food advertising despite tighter regulations.
Health groups say further action is needed to tackle the problem.
Broadcasting regulator Ofcom brought in a ban on advertising foods high in fat, salt or sugar during children's programming.
But a study by academics at Newcastle University found 6.1% of adverts seen by youngsters were about junk food before the ban, with the figure at 7% after the ban.
They said young people do not just watch children's programmes, to which the rules apply.
Mr Matheson now wants the regulations to go further.
He said: "According to the UN and Ofcom studies, the restrictions brought in by Ofcom have been adhered to by children's channels and broadcasters showing programmes specifically aimed at children.
"However, a loophole exists that allows HFSS (high in fat, sugar and salt) food adverts to feature during programmes with a high child audience such as soaps and talent shows.
"That's why we want to introduce a pre-watershed ban and are looking to the UK government to support such a move which would carry the additional benefit of encouraging our partners in the food industry to reformulate their produce to lower salt, fat and sugar content."
Scotland's public health minister said such a move would require "co-operation" between the UK and Scottish governments.
He added: "Broadcast advertising influences the choices made by children and can shape their attitudes to food as they grow into adulthood.
"Tackling obesity and encouraging people to make healthier life choices is one of the most important things we can do to improve the health of our nation."
Further consideration
Jane Landon, deputy chief executive of the National Heart Forum, welcomed the call for a pre-watershed ban.
She said: "The existing rules have delivered protections in principle but not in practice."
Dr Sally Winning, deputy chairman of the British Medical Association Scotland, said: "The media has an important role to play in forming attitudes to nutrition and there is scope to harness this potential and further regulate its more harmful impact.
"Whilst the advertising of unhealthy foodstuffs, including inappropriate sponsorship of programmes and events targeted at school children, is already regulated, it should be noted that many of the TV programmes most watched by children are not children's programmes, and so further consideration must be given to addressing this."
Scottish Labour's health spokeswoman Jackie Baillie accused the SNP of "picking a fight" with Westminster.
She said: "At a time when we have lost 2,000 nurses, our hospitals are crumbling and we don't have enough blankets for elderly patients, I am amazed that the SNP government is picking a fight with the UK government about what time we can show McDonald's adverts on television.
"This is the same government which rejected my colleague Richard Simpson's Trans-fats Bill, something they did have the power to do.
"The SNP's obsession with constitutional politics knows no bounds and is distracting from the real problems in our health service."