Marine power needs public funds, says industry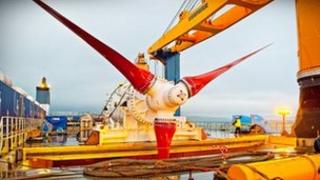 The renewable energy industry has claimed that additional investment of £82m is needed for wave and tidal power to reach its full potential.
In a report from industry body RenewableUK, it calculated that 10,000 jobs could be created in the sector throughout the United Kingdom by 2020.
The industry said the additional funding should come from the UK and Scottish governments.
According to the report, they have so far provided £38m of public funding.
The document has been published to coincide with the organisation's wave and tidal conference in Edinburgh.
David Krohn, RenewableUK's wave and tidal development manager, said: "One step the government could take is to allow the Green Investment Bank to support wave and tidal projects at an early stage.
"It's frustrating that ministers have not yet identified marine energy as a priority sector for the GIB."
The industry has identified the need for £120m to allow the industry to develop wave and tidal energy technology and overcome the barriers to full-scale commercialisation.
Its study claimed that every pound of public sector investment will unlock £6 of private investment.
The renewables industry has said marine energy could provide 20% of UK electricity. Its figures show that Scotland provides 25% of European Union tidal and 10% of EU wave power.
About 450 industry professionals and government representatives are attending the Edinburgh conference.
The event's core sponsor is the Crown Estate, which leases the sea bed sites to developers.
Chief Executive of RenewableUK Maria McCafferty said: "An overly cautious approach could allow other countries to steal Scotland's lead, so it's vital that the Scottish and UK governments build on the good work they've already done by supporting the development of these industries, to ensure that we can retain our leading position globally.
"This will also give us an opportunity to secure a large part of the worldwide market by exporting our technology."