'Nobody's death should go unmarked'
"The minister glanced several times at his watch, so I took him aside and asked him to wait... But it wasn't any use. Nobody came."
This famous scene in the American classic, The Great Gatsby, where Jay Gatsby's many acquaintances evaporate when his funeral takes place, may be symbolic of the moral emptiness of a materialistic society.
Yet every day, funerals are held up and down the country with very few, or no-one, in attendance.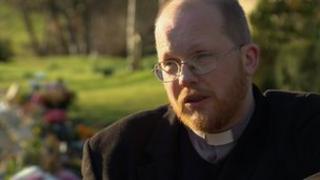 These services are organised and paid for by Britain's councils, when the deceased has no known family or means to pay.
The BBC has sent Freedom of Information requests about council funerals to every local authority in Scotland and England, for a documentary examining death and dying, which features one such funeral.
This programme, Life In The Mortuary, will be broadcast on BBC1 Scotland at 10.35pm on Monday.
More than three-quarters of councils answered the FOI request. And the responses revealed an increase in council funerals across Scotland and all of nine English regions, over the past five years.
The funerals were held for people of all ages, from an eight-week-old baby, to a man aged 105.
Most of the people buried or cremated by local authorities were elderly with no known next of kin, or young people who were estranged from their family.
However, there does appear to be an increasing trend of council funerals being held for people with next of kin, but whose families are unable to afford the cost of the burial.
One English council even told the BBC it had to change its policy to make it more difficult for family members to pass the cost onto the council, due to the large number who were doing so.
In centuries gone past, the burial of citizens by the state were known as paupers' funerals, a process which would see bodies often dumped unceremoniously in unmarked, mass graves.
The Rev Alex McAspurren, a minister who conducts at least one council funeral a month at North Leith Parish Church in Edinburgh, said the modern-day equivalent bears no resemblance to the callous treatment of the dead which was prevalent in the past.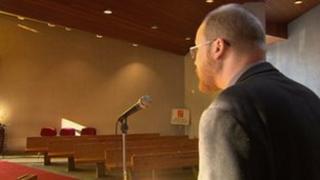 He said: "If I was asked to conduct the funeral of somebody who had no friends, no family, who was very much a loner and kept themselves out of community, there should be no noticeable difference in what I would do between them and perhaps a famous local footballer of generations passed, where you may have press coverage and 300 folk standing outside because they can't get in.
"There should be no discernible difference in the service.
"Where it makes something of a difference for myself is that, on a number of occasions, it can imply that there might not be any close relatives, or any relatives at all, that we can meet with and learn about the deceased, to construct a eulogy."
The minister has noticed a significant rise in the number of council funerals he is conducting since he was first ordained.
'Respect and dignity'
"I would say there's been a measurable increase, certainly in the last three years," he said.
"When I was first ordained 10 years ago, you were maybe talking three or four per cent of funerals, were council funerals. But over the last 12 months it's been much nearer 20%, which, in such a short time, is quite a significant change.
"I'm not sure that the current economic crisis is the whole story although I think it's a contributory factor, amongst many.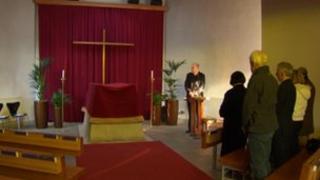 "There is a loneliness amongst elements of society that, perhaps, might not have been there several generations ago, or perhaps would not have been so readily acknowledged several generations ago.
"In the last 50 to 60 years, there have been changes in our economy and our society that enables us to be alone more readily.
"There are far greater safety nets, both on a voluntary and a statutory basis. We all have, in principle, access to suitable accommodation, healthcare, benefits, whatever we would need, so to a certain extent, we don't have to be as reliant on our neighbour as we maybe had to be 50 years ago."
Rev McAspurren asks members of his congregation to attend council funeral services to avoid someone's life being commemorated in an empty church.
"Some of us believe that nobody's death should go unmarked, that nobody should go unremembered," he said.
"By inviting folk along it also allows them to mark, with respect and dignity, the passing of someone, who, like them, is made in God's image."
Life In The Mortuary will be broadcast on Monday 12 March, at 10:35pm on BBC One Scotland, and for a week afterwards on the BBC iPlayer.