Scots offer to send water to aid drought-hit England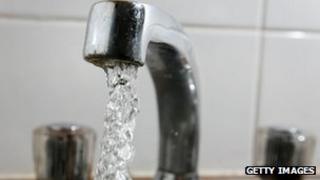 The Scottish government has offered to provide water for drought-hit areas in the south of England.
But ministers admit there are huge logistical issues to be overcome before it could happen.
London's Mayor, Boris Johnson says water could be exported to the south of England via a series of canals.
But Scottish Infrastructure Minister, Alex Neil, has suggested harnessing it to work to build the High Speed Rail system (HS2).
He said: "The South of England is facing real issues with water supply, which look set to continue well into the future.
"With Scotland's plentiful supply of water and superb industry expertise it is only right we offer our assistance in the long term."
The Meteorological Office said the wettest place in Scotland was Cluanie Inn near Fort William which recorded 780 mm of rainfall in January and February 2012.
Restrictions
By contrast, Colchester in Essex, England's driest county, recorded just 554.9 mm throughout the whole of 2011.
A drought in the south east of England was declared as the Department for Environment, Food and Rural Affairs (Defra), which convened a summit of water companies, farmers and wildlife groups to discuss potential water shortages.
In the wake of that, residents in the south east were warned water restrictions such as hosepipe bans may be needed to ensure essential public supplies are maintained throughout the summer.
But getting water from the wet north to the dry south would involve major infrastructure works.
Boris Johnson's plan is based on a plan first proposed in 1942 by J F Pownall.
He suggested a canal could be built along a natural 'contour' down the spine of England, around the 300ft (100m) level, from the Scottish borders to the south east.
Mr Neil, has a more modern solution: "High Speed Rail may provide opportunities for joint working on the necessary infrastructure," he said.
"Our Hydro Nation agenda is ambitious and offers huge opportunities in this area. That means helping out others where possible, and I am willing to make that happen, if the UK Government is too."
However, his proposal may hit the buffers as the Westminster government's plans for HS2 see it running only between London and Birmingham.
To ensure water pipes laid alongside could carry surplus Scottish water would mean extending the railway to Scotland - something the SNP want, but which the UK coalition government has so far resisted.