Low Moss, Scotland's newest prison, gets first prisoners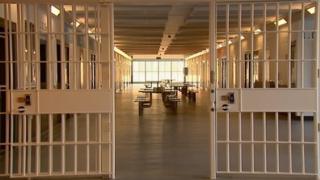 From the outside, it looks no different to a newly-constructed further education college or modern hospital.
Only the shiny block capitals of its name - HMP Low Moss - on the grey and white wall cladding panels tell you what the new building is.
Its first 100 prisoners are being transferred to the East Dunbartonshire jail from Barlinnie.
They will be first to be housed on the site since the wooden huts of the old Low Moss were demolished in 2007.
Inside the prison there is a definite sense of space - wide corridors link the six workshops, the kitchens and rooms for prisoners to attend classes.
The Scottish Prison Service (SPS) says Low Moss, near the town of Bishopbriggs, is "state-of-the-art" and says the space inside the jail is necessary to allow the easy movement of prisoners.
The aim is to reduce the demands on staff in simply managing the prisoners, freeing them to provide more programmes to aid rehabilitation and reduce reoffending.
'No corners'
Ultimately Low Moss will house 700 men from Glasgow and Lanarkshire in two accommodation blocks, each three storeys high.
Staff monitor the cells, which are divided into four wings, from a control desk fitted with CCTV monitors and other electronic equipment.
The governor, Michael Stoney, said because sight-lines are so clear, fewer staff are required to operate the cell blocks.
"There are no corners where men can hide," he said.
From the control console a metal-barred grille can be closed at night and staff will turn televisions off at 01:00 to ensure prisoners are fit for work in the morning.
Power will also be switched off in cells during the day when prisoners are expected to work or attend classes from 09:00 to 17:00.
Mr Stoney said: "The importance is to get through to people that they get out of their beds in the morning and have to earn their privileges."
He added: "It's as much to try to normalise their routine so they understand what it's like to hold a job in the community."
It is hoped Low Moss will help reduce overcrowding in Scotland's prisons, which currently have 1,000 prisoners more than they were designed for.
Barlinnie in the east of Glasgow, which is Scotland's largest jail, was more than 60% over capacity on Friday.