Transport minister to meet safety group after cyclist deaths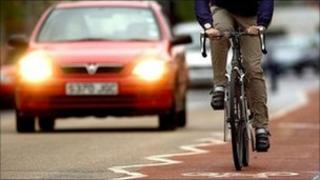 Transport Minister Keith Brown is set to discuss what further steps can be taken to protect cyclists on Scotland's roads.
Mr Brown is due to meet with road safety professionals and cycling groups in a fortnight.
The meeting comes after a man died in a collision with a taxi in Edinburgh on Monday morning.
His death was the sixth fatality in Scotland over the past year involving cyclists.
Mr Brown said: "The rates of serious injuries and fatalities on our roads continue to fall but concern remains about vulnerable road users such as cyclists and we are looking closely at this issue.
"Cycling is a healthy, green, cost-effective way to travel and it is vital that we ensure those choosing to do so are protected."
'Radical rethink'
The Scottish government has set itself a target of reducing the number of people killed on Scotland's roads by 30% by 2015 and a 40% reduction by 2020.
Green MSP Alison Johnstone has called this week for a radical rethink of how Edinburgh's streets are designed to make them far safer for cyclists and pedestrians.
There have been 16 cyclists deaths in the Lothian region since 2000.
Cyclist Brian Simons, 40, died on Monday morning when he was involved in a collision with a taxi. The accident happened on the main Corstorphine road into the city just past Murrayfield stadium.
An investigation is currently under way and police are appealing for any witnesses to contact them.