Crime cash helps save Scots homeless charity Borderline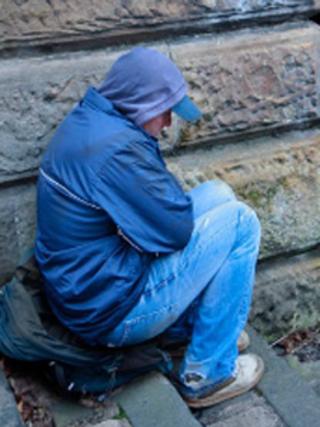 Planned cuts to a project aimed at helping homeless Scots in London have been dropped.
The Scottish government has instead pledged £50,000 a year, until 2015, for the charity Borderline.
The funding will come from cash confiscated from gangsters and fraudsters through proceeds of crime legislation.
The money from ministers is conditional on the Church of Scotland matching the amount through fundraising.
Borderline, known to its clients as the "Scottish Embassy in London", supports hundreds of people every year.
It warned last month it might have to close if it lost its funding from the Scottish government for 2012/13.
Its 2008/09 grant of £107,00 had been reduced to £24,500 in the current financial year.
The new funding announcement came after a meeting between the first minister and the Moderator of the Church of Scotland, Right Reverend David Arnott
Mr Arnott said: "I was moved when I heard of the good work Borderline do for homeless Scots in London.
"It is crucial that the Scottish community stands together to ensure that no vulnerable Scot in London is without the support they need.
"The Church of Scotland is willing to do what it can and I am delighted the first minister has stated the Scottish government will match whatever congregations raise."
Housing Minister Keith Brown, added: "In the face of deep cuts to our budget from Westminster we continue to fund a wide range of initiatives to help tackle homelessness.
"That is why it is good news we have been able to find this money for Borderline, which I hope will make a real difference for Scots who have fallen on hard times in London."
Borderline chief Executive, Willie Docherty, said: "There is a great need for support for vulnerable homeless Scots in London and had we not received this grant, it is highly likely that the Borderline would have closed its doors within months.
"Recognition by the Scottish government that there is a need for this kind of support in London and re-instating our funding is very welcome however, this is only a stepping stone as we still require to enlist the support of more Scots generally, and here in London in particular, to ensure the long term future of our service to homeless Scots in London."