Fergus Muirhead answers your consumer questions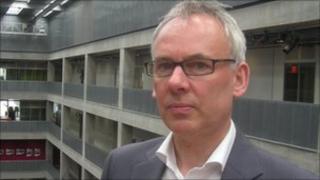 I'm Fergus Muirhead and I'm here to answer any questions you may have about any money or consumer issues.
Please drop me a line here at fergus@bbc.co.uk with your questions.
You can also read more on money and consumer issueson my own blog.
Q. Until recently, my wife was working three days a week with NHS Highland and two days a week with Alzheimer Scotland. She was paying into both pension schemes. However, for the past couple of years she has been employed only by NHS Highland. Can you advise us on how we can transfer her funds from the Alzheimer scheme into the NHS one? We did contact the pensions agency but I'm afraid we did not find their instructions very easy to follow. John Dolan
You will first of all have to establish whether the NHS scheme will allow a transfer in, and if so on what basis. It will depend on the type of scheme that was available to your wife at Alzheimer Scotland and the scheme rules. If the answer is "yes", then you will need to arrange for transfer documents to be signed by your wife to facilitate the transfer from one to the other. If you decide to go down this route it might be worth speaking to an independent financial advisor who specialises in pension transfers to have a look at the figures to make sure that such a transfer does actually make sense for your wife.
Q. I wonder if you can help. My partner and I are tied into a mortgage with the Woolwich. It's a ten-year fixed rate and we are three years into it. We have £55,000 to pay on our property which values at around £160,000. The rate is 5.9% and the monthly payment is £662. We are struggling with this. I called them and asked if there was a better deal but we would have to pay £3,300 to get out of this deal and get on to a lower rate so it probably wouldn't be worthwhile. Would you happen to know if anyone else is offering a better deal for us? My partner is retired on medical grounds and gets disability allowance and incapacity benefit. I earn less than £20,000. Eunice Johnston
I think there are probably lots of companies offering a better deal but if you have a fixed-rate deal then the penalty is likely to apply wherever you move your mortgage to, and not just if you move to another Woolwich mortgage. If you still have seven years to go it might make sense still to pay the penalty and add the £3,300 onto the new loan if you don't have the cash. You may find that your monthly payments are still lower than they will be if you do nothing. If you have a short-term affordability problem, then you might want to ask the Woolwich if there is anything they can do to help you.
Q. I've been renting out my flat for the last six years and have informed my insurance company and have been paying an additional payment since then. After severe wind damage about two weeks ago in Renfrewshire I was informed by my tenant that water was leaking through the roof so I got on to my insurance company. They sent out an assessor who called me and said that because of my £100 excess, and because the flat is the top right of four that share the same roof, they can't take the claim any further. My query is: if the insurance company was willing to take premiums, then are they duty bound to do the repair even although the repair might be under my excess at £90? Scott Marshall
I'm afraid they won't get involved if the repair is under the excess. If you agreed to pay the first £100 of any claim, then the insurance company will only get involved if the claim you make is for more than that amount, and I suppose - with my cynical hat on - they are hoping that it would need to be a good bit more before you would bother with all of the effort involved in making a claim. You need to be careful with excesses. They are used as a way of reducing your premium - you pay the first £1,000 and we'll take 5% off your premium, pay the first £250 and we'll give you a 10% reduction - but you need to be aware of the risk you are taking if you opt for the larger excess then have a claim that is just under it!
Q. I would like to ask you a question about insurance liability due to the recent storms. I had parked my car in my employer's car parking spaces which is within an enclosed yard. Due to the high winds some roof tiles were dislodged which resulted in my car windscreen being struck, which created a crack. I enquired with my employer to confirm that they would oversee any repair to my windscreen and was told that their property policy would not cover any damage to a vehicle and that their public liability cover would also not respond to such a claim, as there was no negligence on the part of the employer. They maintained all their properties were well maintained and that it was the storm that caused the tiles to fall. They also said if the tiles had fallen for no apparent reason then there may have been an issue with the maintenance of the property and they may have been able to consider the claim for damage to the windscreen. I understand the negligence part but believe that insurance is there to cover such eventualities and no person should be out of pocket for an event that has happened outwith their control. My employer will have their roof repaired but I have to pay for my windscreen. Can you offer any advice on this? Stephen Richardson
I think that there is huge merit in the argument you put forward, but the reality is that your employer is probably correct to say that since the storms were an "accident" then they can't make a claim on their insurance policy. That means that you will have to claim on your car insurance policy and my understanding is that most car insurers will cover this risk, although some may have limits that they impose on windscreen claims. It may be that you have an excess and that you consider it unfair that you have to pay anything for the new windscreen. I do have some sympathy for this view, and would no doubt feel aggrieved if it cost me money to have a windscreen repaired when felt I wasn't liable for the fault in the first place.