Fight to save Scotland's red squirrels renewed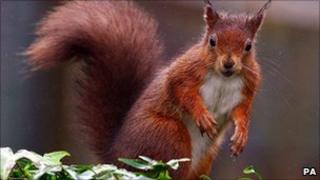 Funding for a "vital" project to save Scotland's red squirrels will continue for another two years, the Scottish government has announced.
The work, which started in April 2009, focused on boosting red squirrel numbers in the Highlands, north-east Scotland, Argyll and northern Tayside.
The new project will run for two years from April 2012.
There are between 200,000 and 300,000 grey squirrels in Scotland and about 121,000 red squirrels.
Funding for the second phase of Saving Scotland's Red Squirrels (SSRS) has been provided by Scottish Natural Heritage, the Scottish Wildlife Trust and Forestry Commission Scotland.
The new project will also include work being done by the Red Squirrels in South Scotland organisation to fight a deadly squirrel pox affecting animals in the Borders and Dumfries and Galloway.
Environment Minister Stewart Stevenson said red squirrels were one of Scotland's "most recognisable and loved animals".
"In the three years since SSRS was formed, and together with the work being undertaken by Red Squirrels in South Scotland, we have seen some positive results as we work to halt the decline of the red squirrel numbers - in some regions, numbers are actually increasing," he said.
"Today's announcement will ensure that this vital work can continue for at least another two years."