ScotRail to pilot wi-fi on Edinburgh to Glasgow trains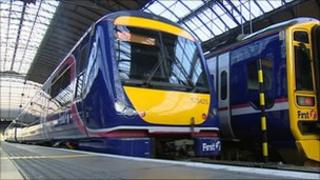 A free wi-fi service is being introduced for passengers travelling on trains between Edinburgh and Glasgow.
New digital technology, which will allow commuters to access the internet on their phones and laptops, is being trialled as part of a pilot scheme.
The Scottish government has awarded a £250,000 contract to First ScotRail.
The hope is that the technology will eventually be available on trains across the country. The scheme has been welcomed by business leaders.
The first stage of this project will see First ScotRail equip four trains on the service which runs from Edinburgh to Glasgow, via Falkirk, with wi-fi enabling equipment.
Transport Minister Keith Brown said: "One of the challenges forever facing transport is how to embrace constantly-evolving technologies and the demands of passengers to get on with their ever more busy lives while travelling.
"The Scottish government is committed to forward-looking schemes which put this country at the forefront of new technologies.
"We have promised to do all we can to bring the internet to every corner of Scotland and that includes allowing people to get online when they're going about their daily business, be that commuting to or from work or travelling socially."
Steve Montgomery, managing director of ScotRail, said: "This is a welcome first step to explore methods to improve connectivity on trains. We will be reporting our findings to Transport Scotland in the autumn."
Liz Cameron, chief executive of Scottish Chambers of Commerce, said: "Wi-fi connectivity is essential to doing business in the 21st Century and its introduction to our trains is vital to making public transport a productive business experience.
"In addition, it recognises the fact that most tourists visiting our country expect to be able to access information on our country through their phones, tablet devices and notebooks.
"I am certain that this trial will prove to be a resounding success and we look forward to full wi-fi connectivity being rolled out as soon as practicable."