'Postcode lottery' over childcare in Scotland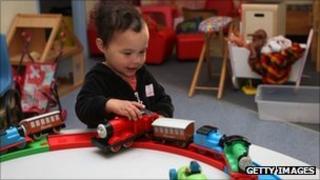 Scottish parents are facing some of the highest childcare costs in Britain, according to two children's charities.
The Scottish Childcare Lottery report found some local authorities were charging twice as much as others for daycare.
Nursery prices in some areas were as high as southern England, with 25 hours of care over 50 weeks at the most expensive, costing £11,688.
The Scottish government said it was committed to improving childcare.
The report, compiled by the Daycare Trust and Children in Scotland, found only a fifth of Scottish councils had enough daycare places to meet local demand.
It also revealed that, at £49 for 15 hours, the average price of after-school-care was higher than in England and Wales as a whole.
Anand Shukla, chief executive of Daycare Trust, said: "Today, we are calling on the Scottish government to take the lead in implementing the Early Years Framework by legislating to provide a childcare place for every child.
"We also call on the UK government to reverse its self-defeating childcare tax credit cut."
Bronwen Cohen, chief executive of Children in Scotland, added: "A universal entitlement to early childhood education and care, with subsidies to limit what parents pay themselves, would make the benefits of early learning available to every child.
"We are pleased to learn the Scottish government is joining representatives of other EU member states to look at how to implement the findings of the European Commission's Communication on Early Childhood Education and Care, which will help Scotland's childcare system "match the best in Europe" - the pledge made by the Scottish government before the election in 2011."
The SNP manifesto said the party would put "childcare for all" at the centre of its ambition for families.
It stated: "We will set out the steps we need to take to increase childcare support here in Scotland to match the best elsewhere in Europe."
A Scottish government spokesman said: "Since 2007, we have delivered real increases in free pre-school provision, benefiting around 100,000 children each year.
"In addition, we're providing £4.5m over the next three years to local authorities to deliver additional early learning and childcare for all looked after two-year-olds; and a further £4.5m to promote community-based solutions to family support and childcare."
'International examples'
Speaking on BBC Scotland's Call Kaye programme, Aileen Campbell, Minister for Children and Young People, said: "I am a mother myself and I understand, and have huge sympathy with, the difficulties that families face.
"This report is very helpful and very useful, and is excellent in contributing to the debate and my thinking about how we move this issue forward."
She added: "What we need to do is make sure we have all the facts at our disposal. We also need to learn from international examples. I was recently in Norway and I saw some of the fantastic work that they do there.
"I am committed to taking this issue forward."
Scottish Labour leader Johann Lamont said: "One of the first things the SNP did after winning power was to scrap important schemes aimed at expanding childcare to vulnerable two-year-olds. That was a disgraceful decision.
"By contrast, this week Labour announced a massive expansion of free childcare in Glasgow to get children in to nursery before their third birthday."
Panorama - The Cost of Raising Britain will be shown on BBC1 Scotland at 20:30 on Monday.