Scottish homeless numbers 'lowest for a decade'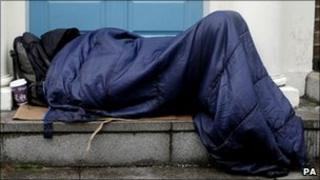 The number of homeless people in Scotland is at its lowest for a decade, official statistics have suggested.
Figures from the Scottish government said homelessness applications and assessments in April to September 2011 were 20% lower than in the same period in 2010.
Drops in the number of people being made homeless were recorded in 28 out of Scotland's 32 local council areas.
Housing Minister Keith Brown described the figures as "encouraging."
Scottish Labour called on the government to "step its efforts up a gear" and highlighted the fact that the statistics suggested one in 10 Scots who become unintentionally homeless were still not being provided with permanent accommodation.
Across Scotland there were 23,796 applications made to local authorities for assistance under homelessness legislation, with 24,209 assessments taking place.
Aberdeen city and the Borders saw the biggest falls in homeless applications - with drops of 56%.
The government's homelessness target states that by the end of 2012 all unintentionally homeless people will be entitled to settled accommodation.
Nine councils assessed 100% of their homeless households as being in priority need, while a further 11 deemed more than 90% of applicants as in the priority category.
There was also a reduction in households in temporary accommodation (down by 4% from December 2010); a drop in households with children in temporary accommodation (down by 13%); and a fall in the numbers of children in temporary accommodation - with only 15 households with children or pregnant women in bed and breakfast accommodation.
Mr Brown said: "These encouraging statistics show that we are within touching distance of meeting the 2012 homelessness target.
"The dramatic decrease in applications is likely to be a consequence of changes in how local authorities help households who approach them for assistance.
"Over the past few years councils have been developing services in which staff assist households to consider the range of options available to address their housing needs, including preventing homelessness.
He added: "We will continue to work with councils and their partners to prevent homelessness and improve outcomes for households that do become homeless.
'Greater change'
Labour's housing spokeswoman, Elaine Murray, said: "Scottish Labour is proud of the groundbreaking homelessness legislation it passed back in 2003, but if the 2012 target is to be hit the SNP government must step its efforts up a gear.
"Worryingly, in 10 local authority areas things seem to be going in the wrong direction.
"We must not forget that people become homeless for all sorts of reasons and are among the most vulnerable people in our communities.
She added: "I urge the SNP government to pull out all the stops to make Scotland's 2012 homelessness target a reality."
Scottish Liberal Democrat housing spokesperson Jim Hume MSP said homelessness still "blights" far too many lives in Scotland.
He added: "While we welcome a 20% decrease in homeless applications, there is absolutely no room for complacency.
"Liberal Democrats are proud of our pivotal role in establishing the 2012 homelessness target. The Scottish government must do all it can to meet this hugely important target by the end of this year.
"Scotland needs a housing sector that is built on protecting the most vulnerable."
Graeme Brown, director of Shelter Scotland, said: "A 20% reduction in homeless applications compared to this time last year is great news and I congratulate the majority of local authorities across Scotland who have made huge progress on homelessness.
"This success should not blind us to the scale of Scotland's ongoing housing crisis. Nearly 50,000 people still presented as homeless in the last 12 months so this progress needs to be a catalyst for even greater change."