Dark cloud over Ibrox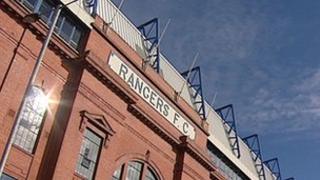 Craig Whyte says he wants a deal on Rangers' tax bill, but clearly doesn't expect one.
He says there's only a "very slim possibility" that administration can be avoided. And he's confirmed what has long been fairly obvious - that the strategy is to get out from under the "dark cloud" of the giant tax bill hanging over Rangers for the past couple of years by side-stepping it.
The statement from Rangers tonight also makes clear that relations between the club and HM Revenue and Customs are hardly conducive to deal-making.
The tax authority has said that if it loses the tax tribunal over the biggest of Rangers various tax bills (previously thought to be £49m, Craig Whyte now saying it could be up to £75m) it will "appeal, appeal and appeal again".
That's what Rangers says it's been told. And to Mr Whyte, it's a signal of HMRC's doggedness in pursuit of the club (or is it more in pursuit of Mr Whyte?) and a signal also that the uncertainty would go on for years.
So win or lose the tax tribunal, he's opting to do something decisive.
It'll have to be quite swift. He told RangersTV that his timescale is now aimed at getting the problems sorted by the end of March. That's linked to the need to get registered for competition in Europe next season.
Even if he can turn things around by then, sceptics might well wonder how well prepared Rangers can be for taking on the best of Europe.
New Rangers
There's a warning from Rangers that cost-cutting and job losses are to be expected, so the playing squad would probably be weakened further.
There's also a warning that, leaving aside the HMRC dispute, "serious structural and financial issues" have to be addressed. In recent weeks, the chairman has talked of a £10m recurring annual deficit.
Filling in the few gaps left in the strategy, it's becoming clearer (and this will come as no surprise to anyone who's followed this story) that the game plan is to collapse the company by appointing an administrator, who would clear the debt, move on the assets, and have Mr Whyte, in control of a different company, buy the assets (including the Murray Park training ground?), thus starting up Rangers under a slightly different guise.
His reasoning is that: "We could not go into next season with this hanging over us, that became very, very clear. We tried everything to avoid it. We've done what needed to be done. We'll move forward with confidence. We will come out of this a stronger, leaner business".
Note that Mr Whyte's continuing involvement after the administration seems to be assumed.
But there remains the question of whether Craig Whyte is the right man to sort out Rangers. And after much abuse heaped on those who have questioned his credentials, the jeering outside Ibrox last night showed that at least some fans are also exercising their critical faculties, and asking whether Mr Whyte is acting in the club's interests.
Lack of integrity
Overwhelmed by yesterday's big news about administration was a harshly-worded ruling from the Financial Services Authority, which banned a stockbroking firm from further trading.
Mr Whyte is secretary of Pritchard Stockbroker based in Bournemouth, which was found to have used clients' funds to pay its own expenses, trading with their funds on its own account, and thus putting clients' funds at risk.
With news last week that a sheriff found his evidence in a dispute over a roofing bill to be "wholly unreliable" and at odds with all the other evidence in civil dispute, the financial regulator now says the stockbroking firm where Mr Whyte is a major investor, as well as board member, is not fit and proper to carry out investment activities, and that it acted with a lack of integrity.
With the notice of intention to put the club into administration, the number of questions about Craig Whyte's intentions for the club's future is significantly reduced.
But former chairman Alistair Johnston is asking what Craig Whyte did not find out about Rangers finances before taking over, and what action he's taken to avert this.
And with a fast-lengthening track record of highly critical judgements by courts and regulators, it makes you wonder what reason there is to believe that Mr Whyte's behaviour as chairman of a football club is going to be any different.