Scots economy struggles to grow, says Bank of Scotland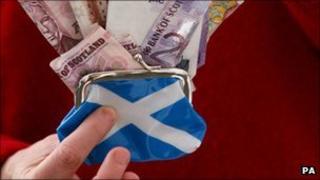 Scotland is managing to hold off recession but its economy is struggling to grow, experts have warned.
Bank of Scotland economists said it grew slightly faster in January compared to the previous month.
But the employment rate was weaker than the UK as a whole, according to the bank's purchasing managers' index.
Scottish Finance Secretary John Swinney said there were encouraging signs, but stressed work needed to be done, in the face of spending cuts.
The Bank of Scotland said the rising cost of food, fuel and utilities increased the burden on the service sector.
The report also indicated a slightly quicker increase in output at Scottish firms, but job creation remained "modest".
'Global slowdown'
Bank of Scotland chief economist Donald MacRae, said: "The January PMI edged upwards, suggesting the private sector of the Scottish economy continues to show modest growth.
"The first increase in new orders at manufacturers for five months was particularly encouraging.
"New export orders weakened but at the lowest rate for four months, while the service sector grew for the 13th month in a row.
"The Scottish economy is struggling to maintain growth momentum in the face of a global slowdown but is, so far, avoiding a return to recession."
The Bank of Scotland said a drop in input-price inflation, which counts the cost of raw materials, components and fuel, was encouraging news for businesses.
Mr Swinney, said: "There are some encouraging signs in this month's survey, however, there is a need for further sustained activity to support Scotland's economic recovery in the face of severe cuts from Westminster."
He added: "We have higher employment and lower economic inactivity rates in Scotland compared to the UK as a whole, but more needs to be done to improve employment opportunities in order to reduce unemployment."