Call for clarity on Scotland's power of attorney laws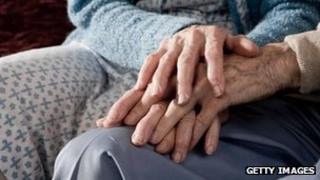 Guidance surrounding power of attorney laws in Scotland should be revised, a mental welfare watchdog has said.
The call comes after a Mental Welfare Commission investigation uncovered the abuse of a couple with learning difficulties by a family member.
Mr and Mrs D, whose identity has been protected, granted power of attorney to Mr D's brother - who then ran up a £10,000 debt in their name.
The Law Society of Scotland said it been asked to look at the issue.
In the the case of Mr and Mrs D, the brother also controlled where they went and who their friends were.
The commission said the authorities failed to act despite suspecting the relationship was abusive.
Dr Donald Lyons, the commission's director, said better training was needed for those involved in allowing carers to take control of the financial affairs and welfare of other adults.
He said Mr and Mrs D had also been failed by the Public Guardian, which has a duty to supervise those appointed as attorneys to adults who lack the capacity to do it themselves.
'Hundreds' at risk
About 40,000 applications for power of attorney are granted every year in Scotland.
Dr Lyons said: "We believe that probably 99% of attorneys act appropriately. It's the 1% that don't that worries us.
"Four or five hundred people in Scotland could be at risk because attorneys are not acting the way they should be and it's very important that the safeguards in the act are used to make sure that they are protected."
Mr and Mrs D were asked to hand over the power of attorney to Mr D's brother at a meeting the brother arranged and was attended by a solicitor he chose.
An investigation by the Mental Welfare Commission Scotland (MWCS) found the couple were not allowed access to their own mail by the brother - known only as Mr E - or allowed to eat pudding, and even had to ask him for toilet roll.
Mr E only bought them clothes once a year at Christmas, which were wrapped up as presents even though they were bought with the couple's own money, the commission said.
Mr and Mrs D only regained financial control of their affairs after the intervention of the Mental Welfare Commission and the help of another family member.
Undue influence
Dr Lyons told BBC Scotland that the council, which has also not been named, contacted the MWCS with concerns about the brother's relationship with the couple.
He said: "The local authority has the duty to investigate the use of welfare powers and the Public Guardian has the duty to investigate financial powers and we don't think either of those authorities did what they could have done to investigate.
"We think that was based on a flawed understanding of the law and of what incapacity needs."
Dr Lyons said the local authority in charge of Mr and Mrs D's care should formally apologise to them.
Adrian Ward, convener of the Law Society's mental health and disability committee, said: "Independently in the Law Society we have been picking up, over about the last 12 months, serious concerns about the interplay of questions of some lack of capacity, and undue influence.
"We are realising more and more how pervasive, but invisible, undue influence can be."
He added: "We need to do something about this, as a profession. We have been asked to look at this. We will.
"We will need the help of the Mental Welfare Commission because what we are talking about here is how can we, as solicitors, pick up when there is undue influence going on, when there may in fact appear to be capacity in some extent but there isn't in fact?
"We recommend, and continue to recommend, people have powers of attorney. So we are not saying don't do it, we are saying be careful."
The Mental Welfare Commission has also said the Scottish government should revise its guidance on how to implement the law over powers of attorney.
A Scottish government spokesman said ministers would act on the recommendations.
He added: "This is a distressing case and we are grateful to the Mental Welfare Commission for their thorough investigation.
"In particular, we will amend our codes of practice and guidance, and we will write to the department for work and pensions about them sharing information when this is needed for investigatory purposes.
"There are also suggestions about changes to the primary legislation and we will take these points on board when the act is next amended."