Study examines higher suicide rate in Scotland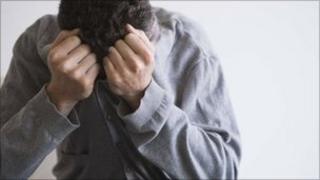 An increase in the number of Scottish men taking their own lives has led to a widening gap in suicide rates between Scotland and England and Wales, a study has suggested.
Rates in Scotland were lower in the 60s but overtook England and Wales around 1968 and the gap widened in the 90s.
The rate in Scotland is now about 80% higher, particularly among younger men.
The researchers from Edinburgh, Glasgow and Manchester looked at suicide rates between 1960 and 2008.
The most significant increase was among men in Scotland aged between 25 and 54.
Although the overall suicide rate in Scotland was higher than south of the border, the rate among women has remained virtually unchanged since the 1960s.
Joint lead researcher Professor Stephen Platt, from the Centre for Population Health Sciences at Edinburgh University, said: "This study adds to our understanding about patterns of suicide in Great Britain by producing sound evidence on divergences in long-term trends in Scotland compared to England and Wales.
"In a future companion paper we will suggest explanations for the persisting higher rate of suicide in Scotland."
Joint lead researcher Dr Roger Webb, from Manchester University's Centre for Suicide Prevention, said: "One of the key changes in methods used during the study period was the marked increase in suicide by hanging, particularly among young men in Scotland."
He added: "It has been proposed that a public information campaign about hanging would be the most useful way to tackle the increase of suicide deaths by this method."
The research was carried out by the universities of Manchester and Edinburgh and the Medical Research Council's Social and Public Health Sciences Unit in Glasgow.
It was funded by the chief scientist office of the Scottish government and published online by the British Journal of Psychiatry.