Offshore renewable energy planning system to be streamlined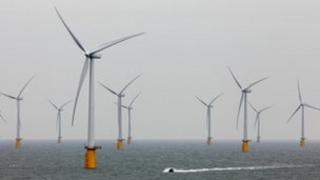 The planning system for offshore renewable energy projects in Scottish waters is to be streamlined.
The move was welcomed by renewable energy firms and environmental groups.
They said the new approach would reduce delay while taking account of possible threats to wildlife.
First Minister Alex Salmond said the changes would make the planning, development and deployment of offshore wind, wave and tidal generation more effective and efficient.
He said: "Scotland now has a world lead in offshore wind and we want to make sure the planning process doesn't allow other countries to catch us, and make sure that the tens of thousands of jobs which are going to come to Scotland from this industry are not unnecessarily delayed by the planning process."
The industry body, Scottish Renewables, said the move was an important step forward.
Environmental protection
The director of policy at Scottish Renewables, Jenny Hogan, said: "With more than 11 gigawatts of offshore wind, wave and tidal energy projects in the pipeline by 2020, a streamlined and efficient process for securing planning consent is crucial to making these plans a reality."
The Scottish government stressed that the changes would not come at the expense of "democratic accountability or environmental protection".
Dr Richard Dixon, the director of environmental organisation WWF Scotland, said: "We need to make sure we get the right renewables in the right places.
"With careful planning we can harness Scotland's wave and tidal energy to help cut our climate emissions, while safeguarding the nation's tremendous marine environment."
Aedan Smith, head of planning and development at RSPB Scotland, said: "This new approach will help reduce delay in delivering much needed renewables whilst, at the same time, ensuring that those proposals that would harm wildlife are quickly rejected."