Stuck on the runway
Douglas Fraser
Business and economy editor, Scotland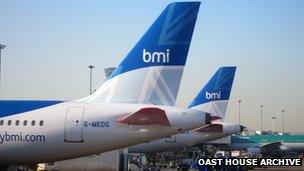 Two European airlines have been grounded in the past week: Hungarian's flag-carrier and Spanair. Could there be another one in trouble, this time in Aberdeen?
BMI Regional, the division of BMI that serves smaller airports in commuter-size jets, was in the sights of a group of businessmen who created it as Business Air, and sold it on.
With British Airways (BA) buying the main part of BMI, due to close the deal in the first quarter of this year, it gets to take over the regional division and BmiBaby, the low-fare part of the loss-making business - unless, that is, BMI's owner, Lufthansa, does other deals to sell these off before the BA deal is completed.
The signals from British Airways is that it has little interest in keeping those divisions airborne.
So what's happened to the Scottish bid to take back the Aberdeen-based regional division? It's gone quiet, apparently because financing of the £20m-plus deal is not going as planned at the end of last year. About 300 jobs hang in the balance.
That concern runs alongside a range of aviation issues you can hear on a special airborne edition of BBC Radio Scotland's Business Scotland programme, presented this week by my colleague, Gillian Marles.
Airline consultant John Strickland told her that the aviation business in Scotland is doing fairly well, particularly if you look at passenger numbers for the main airports.
Edinburgh Airport, for instance, is attractive to incoming visitors as much as a gathering place for outbound - not least today, as the planes head south with happy English rugby fans.
Edinburgh Airport is on the market, of course - forced there by the Competition Commission, which wants to see BAA's dominance reduced by breaking it up.
The formerly nationalised airport company has apparently had a lot of interest from infrastructure investors, and it's looking for first bids within a couple of weeks. The final bids should be in by Easter weekend.
It wants to get the sale out the way before the (similarly forced) London Stansted sale begins, and fast with declining passenger numbers, that could be much trickier.
The difference the sale of Edinburgh could make to Scottish airports depends who buys it, how much they have to invest in developing it, whether the new owners will target Glasgow's market, and whether the Scottish government can find a means and the money to re-introduce some method for attracting new routes in and out of Scotland.
But having heard from some of those involved in the secretive tendering and bidding process, they reckon Edinburgh's customer experience is "shoddy", and there are plans to improve it.
There could be better, faster check-in, more or faster security lines, and airlines' ground handling companies could be incentivised to improve baggage handling speeds. With faster aircraft turnaround, the airport could be made more attractive to more airlines.
But as Amanda McMillan, managing director of BAA's Glasgow Airport told the programme, the sharp rises in Air Passenger Duty are doing nothing to help develop air links.
She says it's very expensive for airlines to develop new routes, typically waiting three years before making a profit, and her prospective airline clients see the UK as an unfriendly place to base their development plans while tax is high and rising.
As Gillian also heard in compiling the Business Scotland programme, there are significant success stories in the sector - the rapid growth of Skyscanner, based in central Edinburgh and using some very smart software to eat up share of the vast online airline ticket booking market.
And (a bit more old school) Loganair has just passed its 50th birthday. While dozens of others have come and gone, it's had its own turbulent times, flying small planes on marginal routes, but it's remained a mainstay of Scottish island life under its various liveries.
Chairman Scott Grier, who has been with the company since the mid-1970s, says it now protects itself against the volatility of its passenger market with charters linked to the oil industry and with regular freight work. It's also moving into flights within Ireland, links to the Isle of Man and between smaller English airports.
Along with the future of BMI Regional, the other big threat on the horizon for Scotland is the sale of BMI's main operations to British Airways (or, more accurately, its owner, IAG), and what that means for services between Scottish cities and London Heathrow.
IAG wants to use BMI's 11% of landing slots at the hub airport to boost its long-haul offering, because that's where the revenue and margins are to be found. And that means a reduced number of slots available for shorter hops, such as BMI's links to Edinburgh and Aberdeen. (It gave up on Glasgow-Heathrow last March.)
That may mean fewer flights. John Strickland reckons it won't necessarily mean less capacity, as British Airways has put larger planes on to some of its Heathrow links with Scotland. But it is likely to mean higher prices, if only one airline is serving the dominant London hub.
Another concern about the BMI sale is raised by VisitScotland's chairman, Mike Cantlay. He's urging British Airways to see Scotland as a vital market, funnelling international visitors through Heathrow Terminal Five, and on to Scotland.
But he's also raised concerns about the loss of BMI's ticketing link to the Star Alliance. That's a big, wide range of airlines - such as United Airlines, Air Canada, Air New Zealand, South African Airways, Lufthansa, Thai and Singapore Airlines - that share a terminal at Heathrow, and ticket passengers between Star members. If all BMI's links move from the Star Alliance terminal to BA's Terminal Five, there's concern that opportunities for attracting visitors north will be lost.
Apparently, the search for an easy life for travellers means we're becoming increasingly reluctant to move between terminals.
And that high-speed rail link with Heathrow looks like it might be at least 30 years away.
You can hear Business Scotland's aviation special on BBC iPlayer for the next week, and by free download: www.bbc.co.uk/businessscotland.