Vettriano's Singing Butler in rare exhibition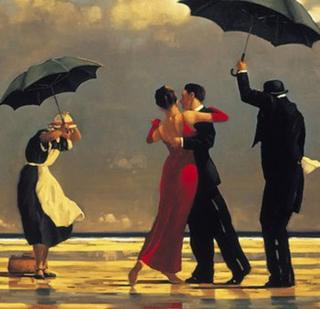 One of the most famous paintings by Fife artist Jack Vettriano has gone on public display for the first time in two decades.
The Singing Butler can be viewed at Aberdeen Art Gallery.
It is part of an exhibition entitled "From Van Gogh to Vettriano - Hidden Gems from Private Collections".
Vettriano's artwork became the most expensive painting by a Scottish artist when it sold for £750,000 eight years ago. The exhibition ends in April.
Other artists featured in the exhibition include Monet, Matisse and Lucian Freud and Scottish colourists Peploe and Fergusson.
The Singing Butler, which shows a couple dancing on a beach while a butler holds an umbrella over them, has been loaned to the gallery for the exhibition by a private collector in Scotland.
Sixty-year-old Vettriano grew up in Methil in Fife.
He is reported to sell more posters and postcards than any other artist in the UK.
The original canvas of The Singing Butler sold at auction in 2004 for £744,500.
In 1992 when Vettriano painted the picture and submitted it for inclusion in the Royal Academy summer show, it was rejected.