Salmonella cases linked to watermelon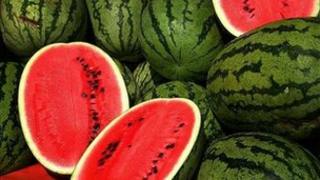 Watermelons could be the cause of five Scottish cases of salmonella which have been linked to a UK-wide outbreak, health officials have said.
Since the beginning of December, there have been 30 cases of the Salmonella Newport infection across the UK.
Four of the five infections in Scotland were in children under six years old, while the fifth patient was an adult.
The same strain has also been found in the Republic of Ireland and Germany, Health Protection Scotland (HPS) said.
Infection with Salmonella Newport causes a similar illness to other forms of salmonella. Symptoms include diarrhoea, vomiting, abdominal pain and fever.
Most people recover within four to seven days.
Investigations into the source of the outbreak are continuing - but HPS said no new cases had been reported in Scotland since the first week of January.
Food advice
Dr John Cowden, consultant epidemiologist at HPS, said: "Although it's too soon to say with certainty what the likely cause of infection is, early indications from cases across the UK suggest that a number of people became unwell after eating watermelon.
"It's important to remember that many thousands of watermelons are eaten every day and the risk of becoming unwell after eating watermelon is very low. These cases only represent a very small proportion of total consumption.
"It is always advisable to wash fruits and vegetables - including watermelon - before consumption to reduce the risk of possible illness."
HPS is working with the Food Standards Agency as part of a UK outbreak control team to identify the source of the infection.
Dr Cowden added: "As soon as any particular producer or distributor of infected watermelons has been identified, steps will be put in place to inform the public and remove any affected items from the food chain."