Renewables growth 'to continue' in Scotland during 2012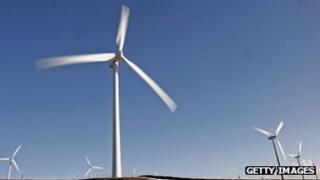 Scotland's renewable energy sector will continue to grow in value this year in the face of economic uncertainty, an industry analyst has said.
PricewaterhouseCoopers (PwC) said the growth would follow a worldwide trend that has seen the value of mergers rise by 40%.
Deal values increased from £24.3bn in 2010 to a record £34.4bn in 2011.
PwC said in Europe the number of deals fell by 6% but their overall value rose from £10bn to £19bn.
Jason Morris, partner and energy and renewable analyst at PwC, said Scotland was playing a major role in the sector.
He said: "Scotland has nailed its colours to the mast in terms of the renewable sector and energy efficiency, both in terms of Scottish government policy and ongoing lobbying to bring the Green Investment Bank to Edinburgh, and the benefits are trickling through."
Mr Morris said the approval last week of £7bn of investment by Scottish and Southern Energy and ScottishPower to upgrade its network was a sign of confidence in the industry.
The PwC report suggested that renewables had benefited from a reluctance in many countries to rely on nuclear energy after the Fukushima earthquake emergency in Japan last year.
However, the report said the wind power sector could decrease in size as firms merged in order to create the large reserves of funds needed to invest in new projects.
Mr Morris said: "As offshore wind projects increase in size, the need for a strong balance sheet to support the technology and investment required becomes more important."