Demand for Scottish high-speed rail timetable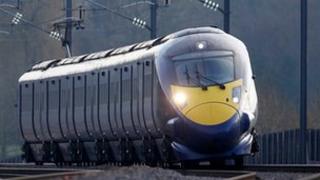 The Scottish government is planning to form an alliance with politicians in the north of England to ensure the planned high-speed rail link extends as far as Edinburgh and Glasgow.
Phase one of HS2, between London and Birmingham, should be running by 2026.
Scottish ministers said the UK government's "wishy-washy" commitments to extend it were not good enough.
The UK Department for Transport said it was important to have discussions with the Scottish government.
The new line, known as HS2, will see a second phase of the Y-shaped route reaching Manchester and Leeds by about 2033.
Further south it is proving controversial but in the north of England and Scotland support for the project from political and business leaders is strong.
'Firm deadline'
The Scottish government's Cabinet Secretary for Infrastructure, Alex Neil MSP, is travelling to London to address the "Making HS2 Happen" conference.
Mr Neil told BBC Scotland: "Some bland, wishy-washy, motherhood and apple pie, long term, undated commitment is no good to us.
"We want a firm deadline by which we will have this link to London and the North of England.
"That would be to the benefit of everybody and I am absolutely sure our friends in the north of England are making exactly the same demand."
Mr Neil wants a firm deadline to be set for completion of the line as far as Edinburgh and Glasgow and would like to see a written commitment included in forthcoming legislation at Westminster.
Meanwhile, a report from the Scottish Partnership Group for High Speed Rail said:
Work in Scotland could start "sooner rather than later" and ahead of planned completion in England.
There is an opportunity for "early delivery" of an Edinburgh-Glasgow high-speed rail connection.
Talks with the high-speed rail company, HS2 Ltd, on detailed route planning to and within Scotland must be made a priority.
The Scottish government believes a high-speed rail link to the south would generate economic benefits of £24bn and help the country meet its climate change targets.
A spokesman at the UK Department for Transport said: "The government's vision is for a truly national high-speed rail network serving all of the major cities of Britain and we are discussing with the Scottish government their ambitions for high-speed rail.
"We believe it's important to start discussions with Scotland on the opportunities for possible extensions early, and we will work with the Scottish government on the development of the high-speed network going forward.
"HS2 Ltd would obviously be party to these discussions, but there has not yet been any commission for HS2 Ltd to look at lines to or in Scotland."