Fergus Muirhead answers your consumer questions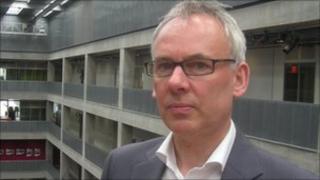 I'm Fergus Muirhead and I'm here to answer any questions you may have about any money or consumer issues.
Please drop me a line here at fergus@bbc.co.uk with your questions.
You can also read more on money and consumer issues on my own blog.
Q. I have a small life insurance policy and I am wondering if I can surrender it and put it in my RBS savings account to which my son has always had third party access. I am 87 so obviously life expectancy is quite short, but by doing this I hope that it would save him all the hassle of having to make a claim on it, what with death certificates and identity etc. Would this be possible and good for him? I hope will be able to give me your opinion. Sam Cain
I think the answer to this question depends on the type of policy you have. Some "life assurance" policies can build up a surrender value and can be cancelled early and used to provide a lump sum of money that you can then gift to your son while you are still alive. Others only pay out on death, and if that is the case then your son will have to wait until then. Even at 87, you might still have a long way to go before being able to access the money. Most life assurance companies have a very simple claims procedure so I wouldn't get too worried about having to do too much to make a claim.
Q. My husband and I have had a fixed term mortgage for the past four years. The term ends in January next year but we are desperate to find a better deal now as we feel we have been paying quite a high rate. We know that if we leave now we will incur penalty fees but wonder if we could still make a saving by changing now. Could you advise if changing would be beneficial to us at the moment or are we just as well staying with it until the term is at an end? We currently have a capital and interest mortgage fixed term, originally five years. Kirsty Gilmour
The answer to this is a definite maybe! You didn't let me see any figures but you should be able to do a simple calculation to compare what you are paying now to what you would pay if you found a better deal. It's then a case of adding up the savings and comparing it against the cost of the penalty you will have to pay if you come out of the fixed rate deal. Don't forget to add in any fees for remortgaging as this can make a difference to the total amount any change might cost.
On the morning of a storm, numerous tiles came off my roof - damaging garden lighting, a fence panel, a wall, the roof of my shed and my TV aerial. Are these items covered under one claim or do I have to put in a separate claim for each? Also the insurance loss adjuster was not coming to see the property until 21 January so I had to get a roofing company to do what they called temporary repairs, which cost £750. When I phoned the insurers to inform them of this they told me that the price for temporary repairs was too high and they may not cover that cost. When I told them water had been pouring into my house and the amount of my claim would have been climbing every rainy day, they said that I should have waited for the loss adjuster. The insurance company said they had only authorised me to get the house water tight but had suggested a tarpaulin, but as a tarpaulin was not available I did the next best thing. What is my position in this matter? John McGeorge
Sorry if I'm going to be a bit vague here but the exact position will depend on the wording of your policy. First of all it's unlikely that your fence will be covered as fences are generally excluded from policies. Assuming everything else you list in your email is covered, then it should be one claim since it relates to one incident, but as I say this may depend on the exact wording of your policy. Your insurer should allow you to make your property watertight and you just need to be able to show that you took the steps necessary to do this before your property was inspected, and that any money spent was spent reasonably. But you should clear expenditure with your insurers before you go away and spend a lot of money or you risk that expenditure being rejected. However, you could argue your failure to take the steps you took to make your property watertight would have meant a much bigger claim for more damages when the insurers eventually got round to dealing with it.
Q. I purchased a Morphy Richards steam iron in late October 2010 at a cost of £125. I bought it on Amazon but from another retailer selling on Amazon. In October this year it stopped working properly. I called the Morphy Richards helpline. They didn't really help. It was then outwith the year (of warranty) before I contacted Amazon to complain. I seem to remember watching you on TV, explaining consumers' rights, and it stuck in my mind that we are covered even after a year has passed. Am I right and can you give me more details? I can't afford another £125 to replace my iron. Denise Farmer
I said when discussing this issue that the Sale of Goods Act can cover you for up to six years from the date of purchase, depending on where you bought the iron (for some reason the limit is six years in England, Wales and Northern Ireland but five years in Scotland). That doesn't necessarily mean you are entitled to a new iron if yours breaks down after four years and eleven months since the retailer would argue you have had the use of it for that length of time. What it does mean, however, is that you shouldn't get bogged down with this idea that you can't ever return anything that is more than 12 months old. And there is often confusion on this time limit because the manufacturer's warranty may last for 12 months but your rights under the Sale of Goods Act are over and above your rights under any manufacturer's warranty. You need to be able to show the retailer that your iron should have lasted longer than it did, and that some fault in the manufacture has caused it to break down.