PhD funding boost for Scottish life sciences sector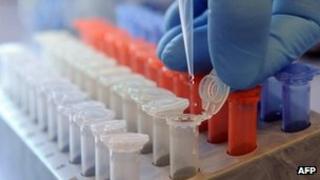 Scotland's life sciences sector has been boosted by a major funding award that will support more than 100 PhD studentships across the country over three years.
The Biotechnology and Biological Sciences Research Council (BBSRC) is providing about £10.2m for the scheme.
The cash is part of a £67m UK-wide investment by BBSRC in postgraduate bioscience training and development.
The bulk of the funds in Scotland will go to the EastBio partnership.
The partnership involves the universities of Aberdeen, Dundee, Edinburgh and St Andrews as well as the Scottish Universities Life Sciences Alliance (Sulsa) and the Scottish Universities Physics Alliance (Supa). Collectively they will receive a total of £7.2m for 72 studentships.
About £3m is also being awarded to a consortium involving the universities of Glasgow and Strathclyde, providing 30 studentships.
Prof Clare Blackburn, from the University of Edinburgh which is leading the EastBio partnership, said: "This studentship scheme is linked to a much higher level of training for our PhD students.
"Our programme, run across the partnership, will draw on different areas of expertise from each organisation, with new initiatives including video conferencing and web-based delivery techniques in combination with residential courses and professional internships, to provide world-class doctoral training for biosciences students."
She added: "The high proportion of studentships awarded in Scotland reflects the calibre of education and research in the life sciences.
"We are delighted about this investment and are very excited about the new possibilities for PhD students."
The West of Scotland partnership will focus on research training in crop science, animal health, ageing, bio-energy and other biosciences fields.
Prof Philip Winn, head of the Strathclyde Institute of Pharmacy and Biomedical Sciences, said: "Today's announcement reflects the City of Glasgow's position as a leader in bioscience, and is another milestone in our mission to train the highly-skilled scientists of tomorrow."