Scottish Water prices frozen for fourth year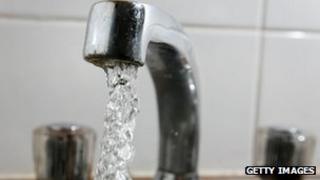 Scottish Water has announced its charges are to be frozen for the fourth year in a row.
The move means the average annual household charge from April will remain at £324 - the same level it was in 2009-10.
The utility said the freeze ensured its customers continued to get "real value for money".
Watchdog Consumer Focus Scotland described the announcement as "good news".
A Scottish Water spokesperson said: "This freeze in charges in 2012-13 means that we continue to be among the lowest in the UK while at the same time improving our service to customers, tackling leakage and delivering the investment Scotland needs.
"In this five-year regulatory period we are investing £2.5bn in projects across Scotland, working in communities from Stranraer to Shetland to play our part in improving the quality of life in villages, cities and the countryside."
'Pressure' on budgets
Trisha McAuley, deputy director at Consumer Focus Scotland, said: "It is good news that water charges are not going up.
"Households budgets are under a lot of pressure with the high cost of basic items such as energy and food so consumers need to see value for money from their public services and will expect the same from Scottish Water."
Infrastructure Secretary Alex Neil said: "Scottish Water is performing well as a public sector organisation.
"Its decision to freeze charges represents excellent news for customers at a time when households across Scotland are confronted by an increased cost of living."