Scottish towns given Creative Place awards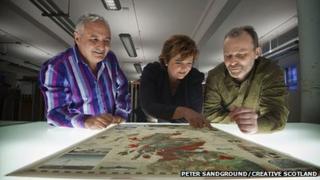 Five towns have been given awards to recognise their status as Scotland's most creative places.
The Creative Place awards are part of the Scottish government's Year of Creative Scotland 2012.
Wigtown in Dumfries and Galloway, which hosts a successful book festival, West Kilbride in Ayrshire and St Andrews in Fife won in different size categories.
Creetown in the south west and Huntly, in Aberdeenshire, both received special awards for their creative programmes.
Wigtown received £50,000 for winning in the category for places with fewer than 2,500 residents.
The award will allow the book festival to be developed into a year-round programme - including a residential creative writing course and a high-profile Wigtown Lecture.
International visitors
West Kilbride was awarded £100,000 for places with fewer than 10,000 residents.
It is seeking to develop itself as Craft Town Scotland.
St Andrews won £150,000 for places with fewer than 100,000 residents.
It will use the money to promote its cultural programme to UK and international visitors.
In addition, the judges made two Special Awards of £40,000 to Creetown and Huntly who impressed with their long-standing creative programmes which involve the whole community.
Andrew Dixon, chief executive of Creative Scotland and chairman of the judging panel, said: "The Year of Creative Scotland and the Creative Place Awards provide a unique opportunity to celebrate and reward places across Scotland that contribute to Scotland's strength as a creative nation.
"From the Highlands to the Borders, Scotland is a rich tapestry of thriving and vibrant creative communities.
"The awards will allow these communities to enhance their creative programmes, which will in-turn raise their profile nationally and internationally and attract further visitors."
The Year of Creative Scotland is a Scottish government initiative led in partnership by EventScotland, VisitScotland, Creative Scotland.