NUS say bursary funding too low for poorest students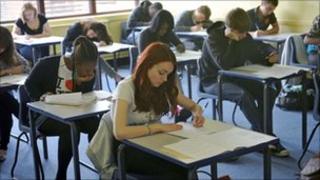 The budget set aside to support college students in their studies is not high enough, according to National Union of Students (NUS) research.
The NUS in Scotland said colleges had been forced to dip into their own funds to provide financial support.
Bursaries are discretionary funds that provide help to the poorest students.
The Scottish government said: "We are providing the best deal we can for colleges at a time when we are having to reduce many other budgets".
The NUS collected information from 28 colleges across the country on the allocation of their bursary budgets.
According to their research, half of the institutions said they had overspent their budget in 2011/12, and a further eight said they had spent all of their budget for student support.
'Worrying' analysis
The Scottish government has proposed a reduction in the current bursary budget from £95.6m to £84.2m after this August.
A spokesman said: "We said we would maintain student numbers and college student support, and that is exactly what we will do.
"The Cabinet Secretary made clear in his letter to colleges that delivery is based on published Scottish Funding Council baselines for last year. There is no scope for misinterpretation."
NUS Scotland president Robin Parker said: "This analysis is incredibly worrying as it shows that even the current £95.6m budget was not enough to meet demand from the poorest students hoping to go to college just now.
"This year we've relied on college reserves but next year, given the cuts institutions are also facing, we won't be able to do that.
"The SNP's manifesto was clearly right in May to promise to protect this budget throughout the parliament, but they are now absolutely wrong to be proposing an £11m cut."