Scots vote Tam o' Shanter favourite Robert Burns poem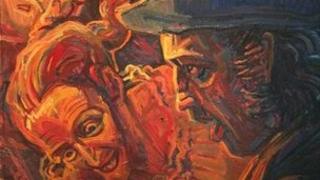 Tam o' Shanter has been voted the nation's favourite Robert Burns work in a poll carried out ahead of the annual celebrations in honour of the Bard.
The YouGov survey was conducted as part of the Year of Creative Scotland 2012.
More than 1,000 Scots were asked to select their favourite poem for Burns Night from a list of options.
Almost a quarter (23%) chose the tale of a man who stays too long at a pub and witnesses a disturbing vision of witches and warlocks.
A Man's A Man for A' That came second, with 17% of respondents rating the poem - famous for its liberal ideas of society in the 19th Century - as their number one choice.
In a close third place was the Address to a Haggis, which 16% of Scots selected as their favourite.
Cultural icon
Speaking ahead of this year's Burns Night celebrations on Wednesday, Culture Secretary Fiona Hyslop said: "Robert Burns is Scotland's greatest cultural icon, recognised and celebrated all around the world.
"The results from this poll show that our national Bard still holds a special place in the nation's heart.
"The favourite, Tam o' Shanter, is considered by many as one of the best examples of narrative poem."
Ms Hyslop said her personal favourite was Mary Morrison as it was the poem she read during her final year at Alloway Primary School to win the Burns Recital Prize.
She added: "That was a great honour and to this day I still find the poem very moving."
Scotland's Makar Liz Lochhead chose To a Mouse as her favourite Burns poem, describing it as her "best and dearest".
Traditional Burns suppers are taking place across the country this week to honour the Bard, including at the Robert Burns Birthplace Museum in Ayrshire and the Balmoral Hotel in Edinburgh.
The 2012 Big Burns Supper festival will also see events held at venues across Dumfries.
In November a new mural, created by Edinburgh-based artist Chris Rutterford, depicting the tale of Tam o' Shanter, went on display at the Burns Museum in Ayrshire.
Meanwhile, Burns enthusiast Donny O'Rourke is choosing a poem or song by the bard every day throughout 2012 on BBC Scotland's Robert Burns website.