Scotching the trade protection racket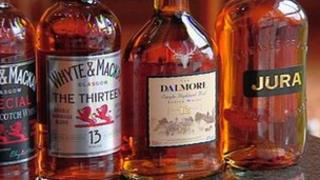 Its bureaucratic name is Indian Made Foreign Liquor.
Bottles bear names that look suspiciously like they're trying to be Scottish - Royal Stag, Bagpiper and McDowell's. And Indians have quite a thirst for it.
Indeed, India is the world's biggest market for whisky. Most is domestically-distilled from molasses, and matured only briefly, as the loss of spirit in India's heat is rapid.
In European eyes, it's not really a whisky at all, which rankles a bit.
A standard bottle will cost between £2 and around £9. Or you can try the 'country liquor', which is unbranded and, let's say, a bit rough.
It costs around £1.50 per bottle, though it's often sold in smaller sachets for those with cash liquidity issues.
While 210 million cases of country liquor are sold each year, that's true of 250 mllion cases of Indian Made Foreign Liquor. And only around 1% of that higher-quality market is in Scotch whisky imports.
Crucial phase
It's not that Scotch doesn't hold much attraction to dram-swilling Indians. The brand names suggest otherwise.
It's more to do with the 150% tax slapped on imported whisky by the Indian government. It could be worse, and it was. It came down five years ago from 400%.
This has been one of the main targets of the Scotch Whisky Association lobbying arm, working with European Commission trade negotiators to push India into opening up its markets.
It has had significant progress through free trade with South Korea, and it's pushing for progress on tariffs in South America.
But the scale of the already-established India market could transform an industry that's already booming.
And while the current round of talks have dragged on into their fifth year, the next few weeks are being described in Brussels as "a crucial phase".
The EU wants a deal tied to the summit between the Commission president and Indian prime minister on February 10, and it's let it be known it is ready to walk away if it doesn't get one.
Catastrophe
But as with any trade deal, there are vested interests who feel threatened by it, sometimes powerful, sometimes justified in their apprehension.
India's distillers have political clout. While visiting Delhi this week, I've been hearing from the head of the All India Distillers Association, Virendra Nath Raina.
His members run 325 distilleries, which are already being walloped by the rising cost of molasses.
He thinks that a significant cut in import duties would boost Scotch rapidly and would be a "catastrophe" for domestic distillers.
Most would go, he says, and central and local government would lose revenue.
And he sees Scotch and other European spirits as having the unfair advantage of agricultural subsidies for their grain.
Incidentally, his most prominent member, Vijay Mallya, who has 40% of the Indian market as well as owning Scotch distiller Whyte & Mackay, is in a lot of financial bother with his Kingfisher airline.
But rumours of a fire sale of assets such as his Glasgow prestige purchase are being hotly denied.
Instead, there are moves to open up investment in airlines to foreigners for the first time, largely to help out the troubled domestic sector.
Humongous
Arguing the case for a cut in duty was whisky industry consultant and ex-Pernod Ricard executive Jatinder Byala. He says the Indian government will give some protection to distillers, but says a cut in duty on Scotch to 75% would see sales multiply sharply.
The potential, he says, is "humongous".
A more likely outcome is a tiered and phased cut in duty, to protect Indian distillers who compete at the cheaper end of the Scotch range.
That would help India's premium brands most.
Of course, wines and spirits are not the only sticking point of these hard-grinding trade talks.
Germany is taking the lead on pushing for access to India's car market, for which import duties are 100%.
The European Union wants to break down numerous barriers to services, such as finance, law and accountancy.
Again, that would benefit British businesses most.
Deal or no deal
But it's Britain that's also facing one of the most awkward parts of this deal as it takes shape.
India wants access for its software engineers and other IT specialists, so that they can back up Indian companies as they service contracts within Europe.
That means temporary work permits, and Britain has a government pledged to cap immigration, as a response to public concerns that jobs are being lost to cheaper nations.
The way round it would have to be with yet more quotas, and strict time limits, so those considerations are still in the balance.
Will a deal get done? At a time of job insecurity, and hostility to big business, it's hard to sell the advantages of free trade.
But the downturn is also seen, at least in British government circles, as a reason for doing the deal, putting some stimulus into growth.
And it would provide evidence that progress can be made on expanding free trade, particularly as the Doha Round of multi-lateral trade talks has stalled so badly that it's hard to see it being resuscitated.