Alex Salmond in Abu Dhabi renewable energy trip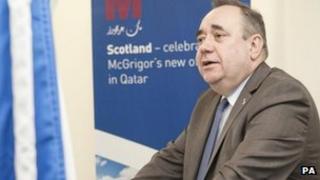 Scottish First Minister Alex Salmond is travelling to Abu Dhabi for a visit which will include the signing of a deal on renewables.
Mr Salmond will address the World Future Energy Summit as a guest of Masdar, a green energy developer.
Masdar is a wholly-owned subsidiary of an Abu Dhabi government company.
The Scottish government said a "landmark agreement to develop tangible green energy products with Masdar" would be signed on Tuesday.
It comes months after the first minister toured its "city in the desert" facility.
Centre of excellence
Middle East emirate, Abu Dhabi, is home to 8% of proven global crude oil reserves, but it has also committed billions of dollars to developing Masdar and establishing itself as a global centre of excellence in renewable energy and clean technologies.
During his visit, the first minister will address the World Future Energy Summit, which will also hear from the UN Secretary General, Ban Ki-Moon, and Premier Wen Jiabao of China.
Speaking before his visit, Mr Salmond said: "This visit to the World Energy Summit is an excellent opportunity to promote Scotland's role as a leader in renewable energy and tackling climate change.
"In addition I look forward to cementing our relationship with Masdar, further to our talks towards the end of last year."
He added: "It is clear that the work Masdar is taking forward on leading us to a low carbon society is in perfect synchronisation with the work we are doing here in Scotland.
"This is the first agreement of its kind between Masdar and an individual nation and will work towards developing further university research into renewable energy.
"This landmark deal rightly puts Scotland firmly at the forefront of the green energy revolution and I look forward to this relationship between Scotland and Masdar growing and delivering for all our global futures."
Last week, Emirates Airline announced a second daily non-stop flight from Glasgow to Dubai, starting from the beginning of June.