Fergus Muirhead answers your consumer questions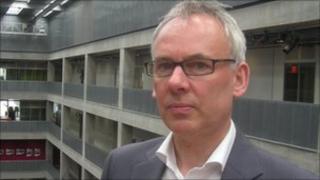 I'm Fergus Muirhead and I'm here to answer any questions you may have about any money or consumer issues.
Please drop me a line here at fergus@bbc.co.uk with your questions.
You can also read more on money and consumer issues on my own blog.
It's time for my first money and consumer piece of the year. And with the storms that battered the country last week I thought I should respond to some of the queries you have about the best way to deal with the damage.
I've decided to deal with the issues that you raised most often and offer advice on the best way to deal with them.
Car insurance
There have been lots of questions about bins, chimneys and slates and other loose debris damaging parked cars, and resulting calls to unsympathetic councils about their wayward property.
So the general line here is that if your car has been damaged by something that's fallen from a building or flown past and hit it then you need to deal with that claim through your car insurance.
If it has come from your property - your roof falls and hits your car - than you have to make two claims. I know that sounds unfair because you may have to pay two excesses, but as far as insurers are concerned it's two separate incidents.
Fences excluded
I have also had a lot of emails about insurers refusing to deal with claims for fences that have fallen down, or blown away.
Unfortunately, fences are usually an exclusion from buildings policies. When I asked an insurance broker why that was the case his answer was: "Because they might fall down". Daft I know, but insurers have no control over the quality and design of fences so seems easier for them just to exclude this totally.
Who is responsible?
A lot of people have contacted their local council to ask about making claims for damage caused by flying bins, but the council don't seem to be able to help.
This is about negligence I think. Although the bins belonged to the council, and they damaged cars, it wasn't the council's "fault" that the damage happened so why would the council be responsible?
This point answers a lot of your emails. What happened last week was an accident, and that's why people need insurance. To make a claim against the council you would need to be able to prove that they were negligent - ie that they knew it was going to be really windy and they deliberately left bins lying out where they could cause damage.
So in this situation your remedy is to speak to your own insurers - either car or buildings or contents. If they think they can recover the cost of your claim (perhaps helping your no-claims bonus) then they will do so, but if not then it's an accident, and that's why you have insurance.
Freezer losses
Lastly, some of you have been asking if the local power company will replace the contents of freezers due to power supplies being cut?
Again the answer here is no. The power company will pay compensation in certain circumstances but not for freezer contents - that is a matter for insurers.
In a fortnight's time I will be going back to money and looking at some tips to help you make better use of your money in 2012.