Scottish architect Isi Metzstein dies aged 83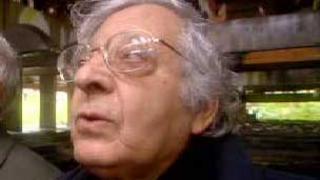 Influential Scottish architect Isi Metzstein has died, at the age of 83.
Metzstein is probably best known for St Peter's Roman Catholic Seminary at Cardross in Argyll.
The Modernist seminary, which is seen by some as a building of "world significance", has been abandoned since the end of the 1980s.
Metzstein, who was born in Berlin but moved to Scotland when he was 11, worked with Andy MacMillan at Gillespie Kidd & Coia.
The architects embraced the Modernism of Le Corbusier and Frank Lloyd Wright.
The practice rose to international prominence in the 1960s with numerous award-winning buildings, many for the Roman Catholic Church.
The seminary at Cardross was completed in 1966.
They also designed projects for the universities of Oxford, Cambridge and Hull.
In later years Metzstein taught at the Glasgow School of Art
Prof Seona Reid, director of the GSA, said: "Gillespie Kidd and Coia's work under the visionary leadership of Isi Metzstein and Andy MacMillan represents one of the most significant and influential contributions to post-war British architecture.
"It is not, however, just through the remarkable physical legacy that Isi's reputation will live on, but through the generations of architectural students whom he inspired."