Weather 'doubles' UK wind farm output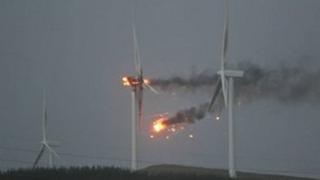 Wind farms across the UK have seen their electricity output double as a result of the recent weather, industry body Scottish Renewables has claimed.
As gusts reached more than 100mph, turbines were operating at 60%, rather than the usual 30%, on Tuesday and Wednesday, the organisation said.
Despite the increase, thousands of homes across Scotland were left without power and transport was disrupted.
Many turbines were also shut down at the height of this week's storms.
Scottish Renewables chief executive Niall Stuart, said: "The recent high winds have resulted in higher output from wind farms, despite some turbines having to close down in the very worst of the storms.
Mr Stuart said onshore wind met about 12% of electricity demand in 2010 and that "despite the critics", 2011 was on track to emerge as a record year for renewable energy.
The figures for wind farm output for Tuesday and Wednesday were calculated using an average "daily load factor", which measures the theoretical potential for generating power.
'Massive drop'
Helen McDade, head of policy at the landscape conservation charity the John Muir Trust, said: "The wind production data on the 3 January certainly shows the peak average daily production that can be obtained from wind developments.
"For instance, at 00:30 on 3 January the forecast and the actual production were closely matched at 2,680 megawatts.
"However, even during this storm, the data shows how quickly wind production can drop. Between 08:00 and 09:00, output was a third of what had been forecast, having dropped to 1,087 megawatts whereas the forecast for this period was 3,480MWs."
She added: "The explanation for this massive drop could be that the storm meant wind turbines all over the country had to be switched off, for safety and engineering reasons.
"The challenge for the transmission engineers to balance the grid with an unexpected 2,400 megawatts shortfall must have been huge."