Minister to meet diplomats over school language worry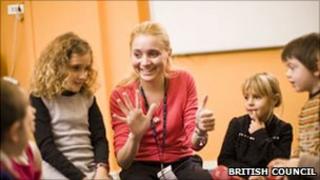 The Scottish government is to meet with foreign diplomats and Cosla to discuss the drop in school language assistants.
Last month, Edinburgh Consuls General of France, Germany, Spain, Italy and China joined forces to stress the importance of native-speaking teachers.
The move followed a British Council Scotland study showing an 80% decline in language assistants in six years.
Scottish Conservatives MSP Liz Smith said the government needed to take the issue more seriously.
The Tory education spokeswoman claimed the government would no doubt "pass the buck on to our councils and their local education authorities".
She added: "This plea from these foreign consuls should act as a wake-up call to the SNP government.
"Their demand for action is backed by the British Council Scotland and needs to be heeded to protect and promote Scotland's role in the world."
The British Council Scotland has said the number of foreign language assistants has dropped from 284 in 2005 to 59.
'Valuable contribution'
The educational and cultural organisation manages the foreign language assistants programme with a grant from the Scottish government.
However, individual local authorities decide whether or not to take on foreign language assistants.
In 2011-12, just seven (Angus, City of Edinburgh, East Renfrewshire, Inverclyde, North Ayrshire, North Lanarkshire and Orkney Islands) out of 32 Scottish local authorities employed foreign language assistants.
Minister for Learning Alasdair Allan said he would be meeting with the Consuls General and representatives of Cosla later this month.
He said: "This government fully recognises that foreign language assistants make a valuable contribution to Scottish schools, enhancing classroom learning and providing a cost-effective complement to language learning."
The government's Languages Working Group is currently looking at how to improve language learning in Scotland's schools.
Lloyd Anderson, director of British Council Scotland, welcomed the government talks.
He said: "Our most senior business leaders are clear that foreign language assistants have an important role to play in equipping our young people not just with the good language skills so vital in the 21st Century, but also with a cultural awareness that comes from direct interaction with people from other countries.
"These skills will be increasingly important for our future prosperity."
Iain McMillan, director of business body CBI Scotland, said: "With many businesses developing links in China, India, Russia, Brazil and other emerging economies, they recognise the value of employees who understand the culture and can operate effectively in the different business environments of these countries - and an understanding of the language is often a crucial first step."