Mother of young organ donor backs register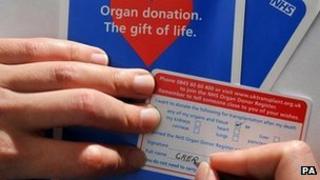 The mother of a young boy whose organs saved the life of five people has backed an appeal for more members of the public to sign up to the organ donation register.
Erin Lappin said she takes comfort from knowing her three-year-old son Stewart's donations gave a new lease of life to an adult and four children.
They included two babies born after his death.
More than 600 people in Scotland are waiting for a transplant.
Stewart stopped breathing at home on 23 January 2010. He was taken to the Royal Hospital for Sick Children in Glasgow, but could not be saved.
Ms Lappin said: "Stewart was rushed to the hospital but it was 45 minutes before doctors could get his heart beating again.
"At this point they had to take him for a CT scan to see if there had been any lasting damage to his brain as he had been without oxygen for so long.
"The scan showed significant brain damage and doctors told us it was non-survivable."
Ms Lappin and her partner, also called Stewart, are both registered donors and asked doctors if it would be possible to register their son.
She said: "We were both of the opinion that it is about quality of life, not quantity of life, and so when we knew Stewart wasn't going to survive we asked doctors if organ donation would be a possibility.
"We were certain that we wanted something good to come out of something so bad.
"If you are in any doubt about the good that organ donation can do, you should visit someone who is waiting on a transplant. The difference it can make to someone's life is amazing."
She added: "No-one likes to think about it but all you have to do is join the register - it takes two minutes, you can sign up online or by text, and you could help save lives after you've gone, just like my baby."
Stewart's liver, stomach, intestine and kidneys were all matched to people on the UK waiting list.
His heart valves were used to save two babies' lives in March and April 2011, more than a year after Stewart died.
The NHS said more than 120,000 people across Scotland have joined the organ donation register in the last year.
'Selfless decision'
At the beginning of December, a total of 1,961,840 people living in Scotland were on the NHS Organ Donor Register, a 6% increase in the number of people on it at the same time last year.
Health Secretary Nicola Sturgeon said three people died every day across the UK because they did not get the organ they needed in time.
"The selfless decision made by Stewart's mum and dad enabled doctors to save the lives of another adult and four children," she said.
"Our rate of sign-up to the Organ Donation Register in Scotland has hit an all-time high, with 37.8% of the population now signed up to save a life, compared to the UK average of 30%.
"However, the tragic fact is that more than 600 people in Scotland are still waiting for a life-saving transplant and across the UK three people die every day because they don't get the organ they need in time."
She added: "There's always a shortage of donors and more lives could be saved if more people joined the NHS Organ Donor Register. No-one likes to think of their own death, but, if it happens, something good can come out of a tragedy.
"Signing up to the register takes a couple of minutes but could mean the difference between life and death for those waiting for a transplant."