Boy dies and two girls rescued in Kilmarnock house fire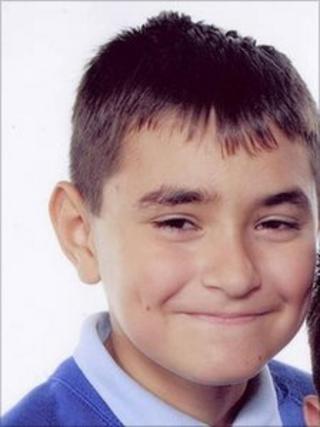 A mother was said to be "inconsolable" over the death of her nine-year-old son after a fire at their home in Ayrshire.
Sheree McGill, 34, escaped from the house in Kilmarnock then tried to get back in to rescue Evan Mohammed and her other children but was held back by neighbours, according to her sister.
Her two younger daughters Yasmin, four, and Nya, three, were rescued by firefighters and taken to hospital.
Fire crews were called to the house in Altonhill Avenue at 03:20.
They rescued the three children on the upper floor after fighting through "intense heat and thick acrid smoke" to reach them.
The children were taken to Crosshouse Hospital in Kilmarnock, where Evan died.
Another sibling, who was five, was staying at his grandmother's house.
It is understood the children took their father's last name, but that he was no longer living with the family.
Ms McGill's sister, 31-year-old Lyndsay McGill, said Evan's older sister Talia, 15, had managed to escape from the burning building by putting a blanket over her head.
Lyndsay McGill said the whole family were in "utter shock".
She said: "We just can't believe it. It's not sank in. I've got children around the same age and they're all good friends.
"My sister is inconsolable. She doesn't know what to do with herself.
"We think the fire started in Evan's room. We think it was an electrical fault. He had a fibre-optic Christmas tree in there."
She added: "My sister's bedroom is downstairs so she got out quickly. Talia was so smart, she put a blanket over her head to escape.
"Sheree tried to get back in when she realised her kids were still in there but some of the neighbours held her back.
"Thank god the two wee girls are okay. We're still just in utter shock about it all."