Upsurge in abandoned exotic pets, says Scottish charity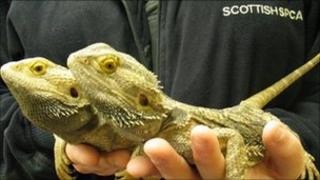 The Scottish SPCA has reported a rise in the number of exotic animals being taken in by its rescue centres.
The charity said that, in the past year, it had cared for 43 snakes, seven amphibians and 48 other reptiles. It also took in three arachnids.
All were either found abandoned or handed in as unwanted by their owners.
The charity said people sometimes find they cannot cope with exotic animals because of the expense and work involved in caring for them.
The figures cover the year to the end of November.
Scottish SPCA Chief Inspector Fiona Greig said: "Often a lot of it's down to financial burden, people just can't afford to look after them the way they should be.
"I think they maybe buy them on a whim and then when they get them they realise how much expense is actually involved, whether it be through buying the initial set-up or the actual feeding costs and husbandry costs.
"Some of them are very specialist and if you neglect to get the specialist equipment, whether it be the UV light or the feeding, it can affect husbandry, you're going to then lead into health problems which is then going to be quite a large financial burden for you.
"There is a lot more to them than looking after a cat or a dog for example."
Among the snakes currently being cared for at the Scottish SPCA's Glasgow centre is a baby cornsnake.
It was found on a kitchen floor and is thought to have made its way into the house through an air vent or cavity wall.
The centre is also looking after a royal python and a Chinese soft-shelled turtle.