Edinburgh giant pandas get Christmas cake treat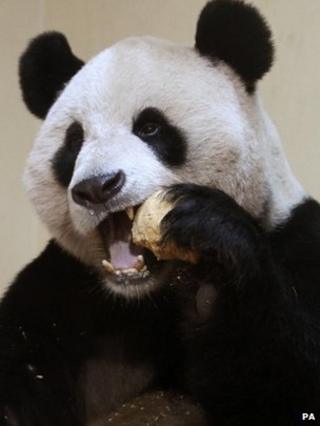 The UK's only pair of giant pandas have celebrated their first Christmas in Scotland with an extra helping of special panda cake.
Tian Tian and Yang Guang have been settling in to their new home at Edinburgh Zoo after arriving from China at the start of December.
On Christmas morning, the pair got an extra portion of panda cake, made from soya, corn, rice, egg and oil.
They are spending the next 10 years at Edinburgh Zoo.
Thousands have flocked to see the eight-year-olds since they went on display to the public for the first time last week.
They get four deliveries of fresh bamboo every day while also munching on carrots and panda cake as part of their specially-tailored diet.
It is hoped the pair - the first pandas in the UK for 17 years - will produce cubs during their stay.
They arrived from Ya'an reserve in Chengdu, China, after five years of work to bring them to Scotland.