Giant tidal device set for tests off Orkney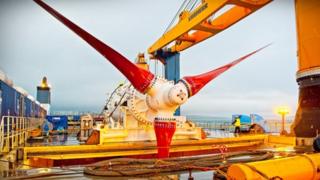 A giant underwater turbine which could form the world's first tidal power array has been deployed off Orkney.
The 100ft-high 1MW (megawatt) Hammerfest Strom HS1000 device was installed by the European Marine Energy Centre (EMEC).
It will now undergo tests in preparation for larger-scale production and deployment.
Scottish Power Renewables (SPR) hopes to use the design for a planned array in the Sound of Islay.
The device has been developed by Hammerfest Strom, a company partly owned by SPR parent firm Iberdrola.
Its substructure was constructed in the Arnish Yard, near Stornoway, in Lewis.
SPR intends to develop a 10MW tidal array in Islay after receiving planning consent from the Scottish government in March this year.
'Difficult operation'
The HS1000 device, which SPR said could power the annual electricity needs of 500 homes, is expected to be fully operational in early 2012.
The tests will also help to finalise the timetable for the Islay project, with machines being installed "as early as feasible" between 2013 and 2015.
Scottish Power Renewables chief executive Keith Anderson said: "We are delighted that the HS1000 turbine has been successfully installed in Orkney, and Hammerfest engineers deserve huge credit for carrying out this difficult operation in very testing weather conditions. We look forward to monitoring its progress when fully operational next year.
"This is a major milestone in the development of tidal power technology in Scotland, and for the tidal power industry across the world.
"We anticipate using this turbine as part of our project in Islay, which will be the first of its kind in the world, and remains the only consented tidal array project in Scotland."
He added: "Beyond this, we have ambitions to use this turbine as part of even larger scale projects in the Pentland Firth, which we are currently investigating."